Beltane Fire festival lights up Edinburgh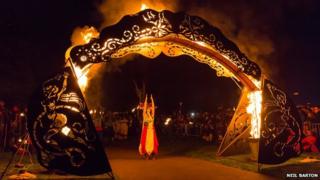 Thousands of people gathered on Calton Hill in Edinburgh on Thursday night for the Beltane Fire Festival.
Organisers said hundreds of revellers took part in the celebration of the coming of summer.
Event co-ordinator Sara Thomas said Beltane was an ancient tradition with a modern twist.
The modern Beltane Fire Festival has run since 1988. This year's celebration included drummers, fire dancers, physical theatre, and a bonfire.