Gang jailed for abducting and robbing garage owner in Fife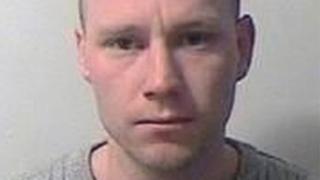 Four men who admitted abducting and robbing a garage owner in his home in Fife have been sentenced at the High Court in Glasgow.
John McLeese, 28, Andrew Dickinson, 28, were jailed for 10 years each while Gary Alexander Carcary, 20, got nine years and Mark Dickie, 28, eight years.
The men broke into Ian Masterton's Lochore home on 26 September 2013.
They tied up, before attacking him, ransacking his house and making off with thousands of pounds of his cash.
A fifth gang member has never been found.
Outside court Mr Masterton's daughters Linda and Vicky Masteron said they were "delighted" that the four men would now be "behind bars where they belong for a long time".
'Psychological issues'
Linda Masterton said: "However my dad has got a life sentence. It was despicable what they did and the level of violence they used.
"My dad has now got a lot of psychological issues. He barricades himself inside his home every night putting a big wooden baton across the door."
Vicky Masterton said: "These men put my dad through a 45 minute ordeal after smashing their way through his door with axes.
"He was also tied up and at one point managed to get the ties off and tried to escape, but one of the gang was outside the room and caught him."
Mr Masterton's sister Anne and her husband Stewart Wheatley said: "Ian has become a virtual recluse. He has difficulty living with what they did to him. He lost his savings and now he doesn't feel safe in his home."
'Utmost wickedness'
After the raid Carcary sent a picture to a friend of a wad of cash.
When his car was searched police found a homemade balaclava, cut up stockings, gloves, a hooded top, a phone and a receipt for two Rolex watches bought for more than £11,000.
Advocate depute Jim Keegan, prosecuting, said none of the £90,000 stolen cash was ever recovered.
Carcary, is from East Kilbride, Dickie from Johnstone, McLeese from Ardrossan and Dickinson from Paisley.
Judge John Morris QC told the accused: "This is a despicable offence of utmost wickedness. You broke into the home of Mr Masterton, the place where he was entitled to feel safe.
"His confidence to live in that home is now gone because you were all greedy. None of you have any concept of what you have done."
Defence counsel for all four accused said that they were remorseful and regretful for what they had done.