Edinburgh University tops animal testing league table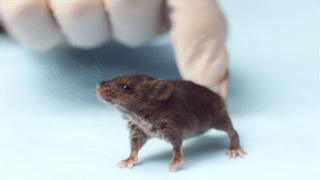 More experiments were carried out on animals at Edinburgh University in 2013 than at any other UK university.
An average of 660 animals each day were used in scientific experiments at the Edinburgh institution.
The figures were obtained by a Freedom of Information request by the British Union for the Abolition of Vivisection.
An Edinburgh University spokesman said tests involving animals only happened when their use was justified, and it is working to cut down on the practice.
The figures indicated that in 2013, about 43% of all lab testing on animals in the UK was carried out at universities.
'Find substitutes'
Edinburgh University topped the league table with more than 241,000 animals used in experiments carried out there.
Procedures included repeated electric shocks given to baby rats.
A spokesman for the campaign group BUAV said it was "ironic that many universities are also leaders in the research to find substitutes" to using live specimens.
BUAV approached 71 universities under the Freedom of Information Act last year and asked how many animals they had used in scientific procedures in the previous 12 months.
Details about the species used and the reasons for the testing were also requested.
A total of 67 universities confirmed that they did use animals in experiments and all but three of these - Manchester, Sussex and Bristol - gave the numbers.