Scottish Energy Minister Fergus Ewing opens biomass plant in Fife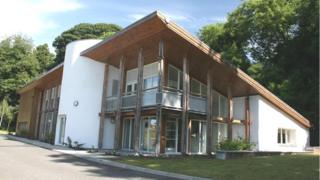 A combined heat and power biomass plant on the site of a Fife-based paper maker has been opened by the Scottish Energy Minister.
Fergus Ewing MSP carried out the ceremony at the RWE's Markinch Biomass plant in Glenrothes.
The state-of-the-art plant replaces the former 1950s coal and gas-fired power station on the site of Tullis Russell.
It represents a reduction in fossil fuel-related carbon dioxide emissions by around 250,000 tonnes per annum,
The new facility is already providing all of Tullis Russell's electricity and steam requirements, with excess electricity generation being fed into local networks.
Renewable sources
Mr Ewing said: "I am delighted to open the Markinch CHP biomass plant.
"This is the largest of its kind in the UK and is not only an asset to Scotland but will also help us deliver our target of 11% of non-electrical heat demand by renewable sources by 2020.
"With the help of a Scottish Enterprise grant this plant has also helped safeguard 500 jobs in the local papermakers, Tullis Russell, which has been open over 200 years."
Paul Coffey, chief operating officer at RWE Innogy, said: "RWE has taken biomass combined heat and power technology in the UK to the next level.
"The Markinch plant is providing Tullis Russell with a state-of-the art low carbon power source, and exporting enough energy into the local network to power around 45,000 homes.
"With a multi-million pound investment and over 2.6 million man hours spent constructing the plant we're delighted it is fully operational and has surpassed efficiency targets for energy production and emissions.
Chris Parr, chief executive of Tullis Russell Group, said: "This has been a major project for Fife and for our business, the importance of which cannot be overstated.
"The plant delivers a modern, economical and sustainable source of renewable power for Tullis Russell, reduces our carbon emissions by 72% and helps to safeguard the future of the 500 jobs at our Markinch base.
Lang Banks, WWF Scotland director, said: "Curbing carbon emissions from our industrial sector will be critical if Scotland is to meet its climate change targets.
"The use of a highly efficient CHP systems, powered by non-fossil fuel sources, is an excellent way to cut carbon as well as save money.
"We'd encourage many more businesses to consider opting for similar low-carbon energy solutions or renewables."
Sulphur dioxide
Lorna Ross, who lives near the plant in Markinch, said: "Markinch now hosts the largest dedicated biomass power station in the UK, and for me this really raises concerns about the impacts of such a large development on the local community.
"While I'm happy that jobs at the Tullis Russell plant have been safe-guarded, there have already been local concerns raised about noise and light pollution emitting from the site.
"I am particularly worried about the negative impact it will have on air quality, since we know for a fact that emissions from this plant will include dust, carbon monoxide, nitrogen oxides, sulphur dioxide, heavy metals such as lead, and furans."
Angie Roy, who lives in Cardenden, said: "We have had huge problems with wood dust blowing onto our houses and into our gardens from a nearby fuel storage and chipping facility, which supplies the RWE biomass plant.
"Apart from having to constantly wash our cars and windows and put up with the woodchip lorries coming through the village all the time, I am really concerned about the serious health impacts that breathing in the dust will have on us."
She added: "Wood dust is classed as a carcinogen by the International Agency on Cancer, and the fact that no continuous air quality monitoring is being carried out either by RWE or Fife Council in Cardenden is really worrying."
Construction on the plant started in 2009 and was fully completed in 2014.