SNP's Marie Penman wins Fife council by-election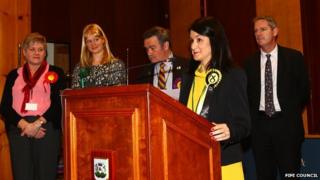 An SNP candidate has won a council by-election in Fife.
Marie Penman won the seat in Kirkcaldy East by 372 votes. Labour were second and the Conservatives a distant third.
The council seat is within former Labour Prime Minister Gordon Brown's Westminster constituency.
Ms Penman said: "It is a huge privilege to be elected as the SNP councillor for Kirkcaldy East ward. I am delighted at the overwhelming support of the communities here."
She added: "I pledge to repay their trust by working hard for this area over the coming months and years.
"There are a number of significant challenges facing the communities here and residents can rest assured that I will give nothing less than my absolute best in pursuit of a better future for this area."
The by-election was called following the resignation of former SNP councillor Arthur Morrison, after newspapers revealed he received his £16,000 salary while living in Austria.
At the council elections in 2012, Mr Morrison finished third in the multi-member ward behind Labour councillors Lawrence Brown and Kay Carrington.
Councillor Douglas Chapman, the SNP representative for Rosyth, said: "This SNP victory in Gordon Brown's backyard will chill Labour to the core across Scotland."
| Candidate | Party | Votes | Per cent of votes |
| --- | --- | --- | --- |
| Marie Penman | SNP | 1460 | 47.3% |
| Liz Easton | Scottish Labour | 1088 | 35.3% |
| Edgar Cook | Scottish Conservative | 223 | 7.2% |
| Claire Reid | Scottish Green | 126 | 4.1% |
| Peter Adams | UKIP | 117 | 3.8% |
| Callum Leslie | Scottish Liberal Democrats | 40 | 1.3% |
| Ronald Hunter | Independent | 19 | 0.6% |
| Alastair Macintyre | Independent | 12 | 0.4% |
| | | | |
| Total Number of Valid Votes - 3085 | | | |
| Turnout - 27.27% | | | |