Edinburgh Airport set for next £50m expansion stage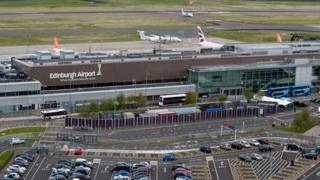 Edinburgh Airport is to start another stage of its expansion, with the announcement of a £50m development.
During a visit by the prime minister, it was announced that a new immigration and baggage hall is to be built, which should triple the capacity for larger long-haul aircraft.
It is the second stage of a £150m programme agreed two years ago.
The first stage included a new security hall and a temporary arrivals hall to accommodate Middle East routes.
Of the £150m programme announced in 2013, £25m was been spent on stage one, for a new security hall, landside improvements and a temporary arrivals/immigration/baggage hall.
Work on that temporary structure started this week, to be ready for the June start to the Etihad service.
The £50m phase two investment will build around that temporary structure.
'Extensive changes'
That leaves £75m to spend over the five-year programme. It is not yet known how that will be spent.
Gordon Dewar, Edinburgh Airport's chief executive, said: "As we announce the next part of our five-year investment programme, it was a pleasure to welcome the prime minister to Edinburgh Airport today so he can see the extensive changes we've already made and those we are about to start.
"We're committed to providing our passengers with choice and giving them the best experience.
"The work we'll be carrying out over the next four years will transform our airside facilities, tripling our capacity to handle bigger aircraft and paving the way for the next 10 years of increased international connectivity."
He added: "We'll effectively be creating a new international facility for our airlines, and underpinning our future aspirations to increase passenger numbers and enhance their experience and be one of the leading European airports for our size.
"We've grown significantly over the last several years and have worked hard to redefine our airport strategy with the passenger at the core of everything we do."
Overseas investment
During a tour of the airport earlier, David Cameron said: "Having first class infrastructure is a crucial part of our long-term economic plan to support business, create jobs and secure a brighter future for hardworking families across the country.
"The expansion of Edinburgh Airport is great news for Scotland and for the whole of the UK.
"It will open the door to more long-haul flights and new routes, meaning more tourism, more trade and more jobs for people here in Edinburgh and beyond."
He added: "It will also help Scotland to compete on an international scale and of course the UK's large network of embassies across the globe will continue to keep banging the drum for Scotland and help maximise any opportunities, whether it is bringing in overseas investment or supporting businesses in Scotland to export worldwide".