Thousands join Hogmanay celebrations across Scotland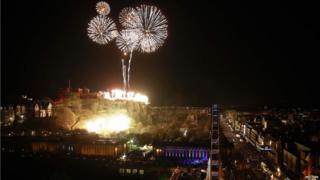 Tens of thousands of party-goers have taken to the streets for Hogmanay celebrations across Scotland.
Edinburgh hosted an estimated 75,000 people at its world famous street party and fireworks display.
Events to welcome in 2015 took place in Aberdeen, Inverness, Stonehaven and around the country, while a warm-up party was also held in Glasgow.
An outdoor concert planned for the Stirling Castle esplanade was cancelled because of winds gusting up to 100mph.
Police said the decision to cancel the Stirling street party was taken after discussions with organisers, to prioritise safety.
Stirling Council said strong winds were causing structural damage to the stage and blowing over portaloos, fencing and other equipment.
Aberdeen offered free live music on Union Terrace, while pop legends The Human League were headlining in Stonehaven.
Stonehaven is also home to the famous annual fireballs Hogmanay ceremony.
Edinburgh's Hogmanay had promised a "rocking good party" as it took in the New Year with Lily Allen, Bjorn Again, Soul II Soul and this year's Mercury Prize-winners, the Edinburgh-based act Young Fathers.
The UK's biggest outdoor winter festival began in the Scottish capital on Tuesday with three days of events, including a torchlight procession involving 8,000 people.
The midnight fireworks display to welcome in 2015 was followed by the traditional mass rendition of Auld Lang Syne.