Edinburgh's Hogmanay set for four fireworks displays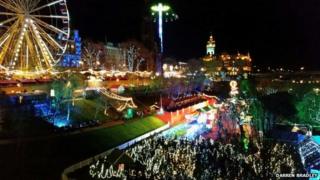 The skyline of Edinburgh is set to be lit up by four official fireworks displays as part of the city's Hogmanay extravaganza.
The fireworks will be at 21:00, 22:00 and 23:00, followed by the midnight spectacular from Edinburgh Castle and Calton Hill.
The midnight display is five minutes long, with many fireworks fired at the same time.
If each effect were fired individually, the display would last for four hours.
And officials said that if the lift height of each effect was measured and added together the combined reach would stretch from Edinburgh to Paris.