Eyedak: Police Scotland taking no further action over reality device claims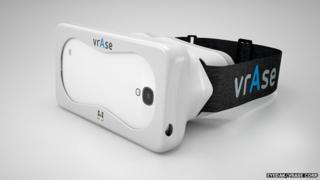 Police Scotland is to take no further action over allegations about a virtual reality device developer's crowd-funding campaign.
Eyedak, which has operations in Edinburgh and Gran Canaria, is creating a headset called vrAse. It turns images on a smartphone screen into 3D visuals.
Police were working with the firm after claims were made against it.
A spokeswoman for Police Scotland said the force would be taking no further action after completing its inquiries.
Eyedak said last month that a misunderstanding over a delay in delivering the device had led to the claims. It denied any wrongdoing and co-operated fully with the police.
Action Fraud, the UK's national fraud and internet crime reporting centre, looked into the allegations before handing the matter over to police in Edinburgh.
Almost three years in the making, vrAse turns images on a smartphone screen into 3D visuals.
It could be worn to watch films, television and play games.
Known as augmented reality, the new way of seeing images and gaming is reported to be attracting growing interest from businesses.