Sex attacker Mariusz Cieslar caught by distinctive trainers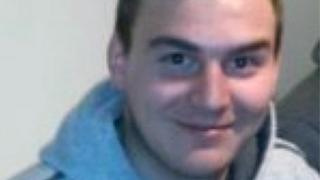 A man who attacked women who were strangers to him at their West Lothian homes was caught due to his distinctive trainers, a court has heard.
Mariusz Cieslar, 26, targeted his two victims at night at their Livingston houses in April and May 2014.
The 26 year-old Pole attacked one as she stood having a cigarette in her back garden. The second woke to find Cieslar in her bed beside her.
He pled guilty to assaulting both women with intent to rape earlier.
Lord Turnbull remanded Cieslar in custody at The High Court in Glasgow.
DNA match
He will be sentenced next month.
During an investigation police discovered Cieslar had worn Adidas Adipure trainers after footprints were left at the scene.
Cieslar was then linked to a pair bought at a shop near to where he lived.
He was later held as he returned from a family holiday in Greece - and a pair of the Adidas shoes were found at his home.
The first woman, 21, was attacked on 8 April as she had a cigarette outside her house.
The cleaner then grabbed the woman and soon overpowered her.
She was able to scream loudly which appeared to panic Cieslar and he fled.
He attacked a second woman, 27, on 7 May in her bed after climbing through her window.
The court heard how he restrained the woman leaving her unable to move.
Cieslar suddenly got up and climbed out of the window.
Detectives soon linked the attacks after DNA found at the second incident matched the first.
Police also discovered the same footprint had been left at each scene.
Checks revealed this type of trainer was sold in two outlets in Scotland - including one in Livingston where Cieslar also lived.
Police got a breakthrough when a purchase using a card in the name of Cieslar's partner was traced.
The judge said: "You have pled guilty to two most terrifying and serious assaults.
"Each were perpetrated on women who were strangers and who thought they were safe in the confines of their own homes.
Cieslar was also put on the sex offenders register.
Det Supt Pat Campbell, of Police Scotland, said: "These two assaults were extremely distressing for the two women involved but I would like to commend them for their bravery in coming forward.
"I would also like to thank the public and the media for their help following our appeals. It was this information that greatly assisted us in bringing Mariusz Cieslar to justice."