Donaldson's School told to make urgent improvements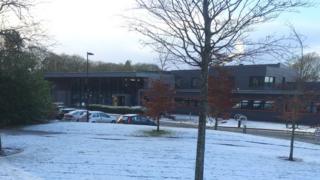 Scotland's national school for deaf children has been told to make urgent improvements to ensure the safety of its pupils.
A Care Inspectorate report has ordered Donaldson's School in Linlithgow, West Lothian, to provide adequate child protection measures.
The Scottish government said action was being taken to make improvements.
Police Scotland said its review into separate allegations made about a senior member of staff was ongoing.
Ministers said a new management team had been put in place at the school.
The joint investigation between the Care Inspectorate and Education Scotland comes after Scottish ministers issued Donaldson's School with a seven-day improvement notice.
Clear deadlines
The report outlines concerns about leadership and governance at the school, disruptive behaviour and the way that staff deal with it.
It also highlights poor communication and ongoing tension between senior managers and governors.
The report concludes by demanding urgent action with very clear deadlines by the end of Thursday.
It said officials want information about all incidents where children have been injured, restrained or run away.
By end of the week, officials want evidence of how the school intends to share information.
And, by the end of the year, officials want "a clear and accountable overview" of how staff will be supported.
The school, which receives financial support from the Scottish government, said it has appointed a new senior management team to work with staff and families to make the changes.
It said the board of governors had appointed John Anderson as its new convener.
---
Analysis, Jamie McIvor, BBC Scotland education correspondent
This report from Education Scotland and the Care Inspectorate is one of the most critical they've ever written. So, is the school's future secure?
Well, the plan for improvements was produced within the seven-day deadline.
The school is now going to be working closely with the Care Inspectorate and Education Scotland to make sure improvements are made. New governors have also been appointed.
The government says it expects progress to be made quickly and will continue to monitor this closely.
And there are some very tight deadlines for action.
There is no threat of closure - but this school is under very intense scrutiny.
---
Mr Anderson said: "Donaldson's School is facing a very challenging time.
"The current review of the school's management has been instigated by the school, when the new principal felt that appropriate procedures were not being followed and issues needed to be addressed.
"We now have the Scottish government's go-ahead to implement our action plan going forward and continue to work with Scottish government, Police Scotland and all other appropriate agencies.
"We have been overwhelmed by the support shown to us by other agencies. Priority is the safety and wellbeing of the children and young people in our care."
Donaldson's School has also appointed three new members to the board of governors - Sally Ann Kelly, Jacqueline Lamb and Angela Morgan. All three have taken up post this week.
'Uniquely challenging'
An inspection of the school took place after police were called in to investigate allegations of sexual offences about a senior member of staff.
Ann Maxwell, a parent with a child at the school, backed the work staff and managers do.
She said: "My son has only received the very best care throughout his 12 years at Donaldson's and I am sorry that the Care Inspectorate report makes no mention of the role the school has played to support many children and families such as mine.
"People like to categorise Donaldson's as the deaf school, but it cares for many children who have very profound learning disabilities. It should be remembered that the management and teachers have to deal with a uniquely challenging environment."