Victims suffer as Scottish court delays rise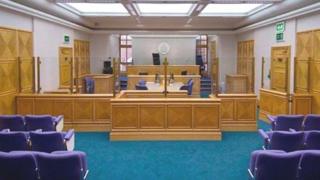 Victims are having to wait longer for cases as a result of court closures and a lack of resources, critics claim.
However, the Scottish Court Service said delays were not connected to court closures.
Cases in Scotland's flagship domestic abuse court in Glasgow should be heard within six to eight weeks.
However, figures obtained under the Freedom of Information Act show on average last year they took 16 weeks from case calling to conclusion.
One case took 75 weeks.
Justice system
Mhairi McGowan, head of specialist support agency Assist, said they were aware of at least two examples where cases had taken more than two years and have still not concluded as a result of court delays.
In recent weeks she said the court service had introduced additional resources and more domestic abuse courts in Glasgow and elsewhere to make improvements and tackle delays.
She told the BBC: "If we can deal with cases within six to eight weeks that reduces repeat incidents, holds people to account quickly and means the victim does not have it hanging over them.
"It really makes a difference to people's lives and it is really up to us as institutions and as a society to make sure the justice system is providing what the public require."
Figures obtained by Scottish Labour show the time taken for power of attorney registration - where family members apply to look after the estates of vulnerable, elderly or sick relatives - has increased from an average of 30 days to 20 weeks.
Labour MSP Ken Mackintosh said it was having a dramatic impact on families.
He said: "The court service or office of the public guardian is struggling with cuts.
"They've lost a number of staff and I think this is having a direct impact just at the time demand is increasing.
"We've got an older population and growing numbers of people with dementia. If you can just imagine the difficulties these families are already facing.
"They don't need to wait 20 weeks for a power of attorney. This is unacceptable."
Delays are taking place across the system and the Law Society of Scotland said it was concerned court closures and lack of resources were impacting on victims and that forthcoming reforms could exacerbate the problems.
Sheriff cases
Kim Leslie, convener of the society's civil justice committee and a partner at law firm Digby Brown, said: "The impact of a delay on a victim is extraordinary.
"Justice delayed is justice denied. It is very stressful going to court for most of us.
"The idea of having to wait longer for your case to be heard can only be putting pressure on victims, witnesses, everyone involved in the process."
Some 13 courts have been closed this year to save money, including those in Kirkcudbright and Duns. A further four will be shut down in January but the Scottish Court Service (SCS) said this has had no impact on business overall.
In March this year only 50% of sheriff cases were being heard within the recommended 16 weeks. The SCS says that has now increased to 60%.
'Muddies the water'
Eric McQueen, chief executive said of the SCS, said: "There is no doubt that over the last year and a half the reporting and detection of crimes, including sexual, domestic abuse and road traffic offences, has surged, reflecting the proactive policing and prosecution and greater victim confidence to report crimes.
"While associations have been made with court closures, this simply muddies the water.
"The SCS equally has no doubt that the physical court capacity exists to deal effectively with this increased volume of business.
"Additional judiciary, court staff and fiscal staff have been deployed to use the court capacity available, ensuring the additional volume of business is dealt with effectively by the courts.
"We are implementing court programming to provide for the majority of summary trials to be held within 16 weeks of a not guilty pleas being tendered.
"POA applications can be part of lifestyle planning and are often submitted without particular urgency. Over 50% of POA applications are submitted by electronic registration and those are dealt with within 20 days. Paper based applications can take up to eight weeks (six weeks be the end of this month) but any application can be expedited if required within 10 working days."