Order for Glencoe massacre goes on display in Edinburgh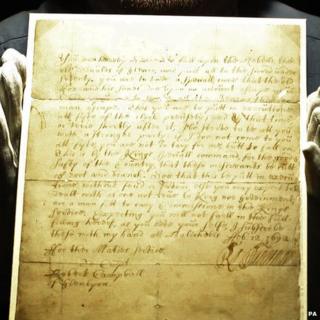 One of the most chilling documents in Scottish history has gone on display in Edinburgh.
The handwritten order for the Massacre of Glencoe is the centrepiece of a National Library of Scotland exhibition.
In 1692, 38 members of the MacDonald clan were killed by a force led by Capt Robert Campbell of Glen Lyon, despite showing hospitality to the troops.
The display marks the 300th anniversary of the 1715 Jacobite uprising.
Robert Betteridge, National Library of Scotland curator, said: "You can't get much closer to history than this.
"Visitors to the exhibition will be able to see a document that was written over 300 years ago in conditions of absolute secrecy and then passed on to the people who were to carry out the massacre.
"It was a deed so shocking in its execution that it has remained strong in the memory of generations of Scots."
Game of Crowns: The 1715 Jacobite Rising runs until 10 May 2015 at the National Library of Scotland, George IV Bridge, Edinburgh. Entry is free.
It features loans from the Royal Collections, National Museums of Scotland, National Records of Scotland and Scottish National Portrait Gallery.