Mohammad Asghar: David Cameron raises case with Pakistan PM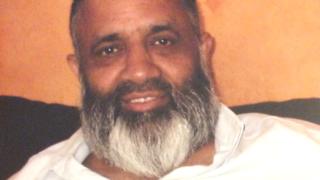 David Cameron has raised the case of a Scottish grandfather being held on death row in Pakistan during a meeting with the country's prime minister.
Mohammad Asghar, 70, was sentenced to death in January after being convicted of blasphemy.
In September, the pensioner, who has paranoid schizophrenia, was shot and injured by a prison guard.
The prime minister asked Mohammad Nawaz Sharif to ensure Mr Asghar's case was handled in the right way.
Mr Asghar, who is from Edinburgh, was arrested in 2010 after reportedly writing a number of letters in which he claimed to be a prophet.
Mr Cameron discussed the case with the Pakistani prime minister during talks at 10 Downing Street, following Thursday's international conference in London on the future of Afghanistan.
A Downing Street spokeswoman said that Mr Cameron's focus was on making sure that Mr Asghar "gets the right level of treatment and care and that his case is handled in the right way, given his particular circumstances".
The case has already been raised at various levels with the Pakistani authorities by UK ministers and officials.
In October, former Scottish first minister Alex Salmond met Mr Asghar's family and said he would do all he could to secure his release.