Keane Wallis-Bennett death: Tribute song climbs download chart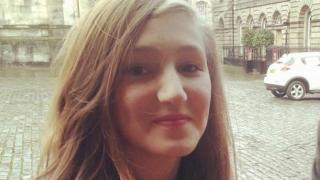 A song recorded in memory of an Edinburgh girl who died after a wall collapsed at her school has entered the top 100 on the download chart.
Fellow pupils of Keane Wallis-Bennett wrote Keane's Song in the days after she died in the accident at Liberton High School.
It was released on Monday on the iTunes chart, eight months after the 12-year-old's death.
The team who wrote the song said they were "really chuffed" by its progress.
The money raised will go towards a memorial garden for Keane.
The three-minute track was at number 72 on Wednesday on the iTunes download chart.