Viridor to build £177m waste-burning power plant in East Lothian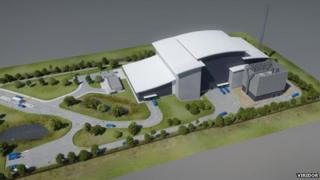 A £177m plant which will burn rubbish to create energy is to be built in East Lothian.
Viridor says the new system, near Dunbar, will incinerate more than 300,000 tonnes of waste a year, avoiding the need for landfill.
The energy produced will be able to power almost 40,000 homes all year round.
Environmentalists, however, have claimed emissions could be toxic.
The company secured planning consent for the site from Scottish ministers in December 2010, and approval from the Scottish Environment Protection Agency in 2011.
Viridor has now said it will go ahead with the project, with completion due in December 2017.
It said the project would support 350 jobs during construction and 55 jobs once operating.
The firm said the plant, at its Oxwellmains waste treatment hub, would help Scotland meet its ambition of becoming a zero waste country.
The system, known as an "energy recovery facility", allows electricity to be generated from waste that would otherwise be buried as landfill.
Martin Gray, from Viridor, dismissed concerns that the plant would produce toxic emissions.
He told the BBC's Good Morning Scotland programme: "In terms of the energy recovery facilities themselves, it is literally material that can't be recycled goes in the front end.
"People can be reassured that this established, proven and safe technology operates across Europe and rigidly complies with stringent national and international standards."
It will generate 30MW of base-load renewable energy direct to the grid - the equivalent of 39 wind turbines.
It will also produce 10MW of heat, available for local use.
'Greener Scotland'
Scottish Environment Secretary Richard Lochhead welcomed the announcement
"This is a significant investment, which will reduce the amount of waste going to landfill while generating energy to the grid," he said.
"The Scottish government has always made it clear that there can be a role for energy recovery from the limited amount of residual waste as landfill is phased out.
"This sits alongside our internationally ambitious targets for waste prevention and recycling as part of a suite of measures to make Scotland a greener, cleaner place to live."
Scottish Secretary Alistair Carmichael said it was "good news for Scotland's growing economy".
"The UK government's plan for energy is to power growth and jobs as we build clean, secure electricity infrastructure for the future," he said.
"This centre fits the bill and will help Scotland fulfil its enormous green energy potential powering thousands of homes, ensuring we are at the centre of the UK's low carbon economy."