Heritage award for Edinburgh Castle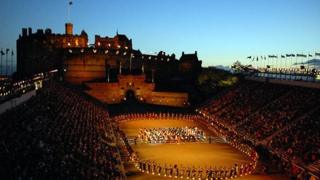 Edinburgh Castle has been named the UK's best heritage attraction for the fourth year in a row.
The world-famous site welcomed a record number of visitors over the summer and scooped the honour at the British Travel Awards in London.
The castle is Scotland's most popular paid-for attraction and won the heritage award in a public vote.
A total of 767,000 people visited Edinburgh Castle between June and September, a 3% rise on last year.
'Enduring appeal'
Culture Secretary Fiona Hyslop said: "With its dramatic setting, centuries of colourful history and panoramic cityscape views over the Scottish capital, Edinburgh Castle continues to enthral visitors from around the world.
"To be named the winner of this prestigious award for the fourth year running reflects the enduring appeal of this iconic Scottish landmark, which plays a key role in promoting Scotland to visitors both at home and overseas."
Nick Finnigan, Edinburgh Castle's executive manager, said: "It is a wonderful accolade for Edinburgh Castle to have been named the winner of this prestigious award for the fourth year in a row.
"This award builds on a fantastic year for the castle where we have experienced another record-breaking season, with more people coming through the castle gates this summer than ever before as we continue to invest in our world-class visitor experience.
"This continued accolade is made doubly special as the winner is voted for by the public and our visitors, and we'd like to thank them for their support."