Revamped blind school officially opened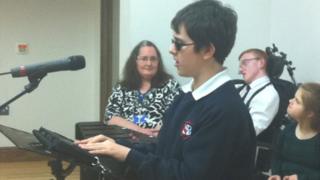 The revamped Royal Blind School in Edinburgh has been officially opened following a major redevelopment.
The school recently merged its two campuses, moving pupils from the Victorian campus in Craigmillar Park to buildings in Morningside.
The new facilities have been especially designed to help pupils with little or no sight.
Wide corridors with contrasting colours will help pupils to get around the building independently.
The ceremony was carried out by the charity's patron HRH The Duke of Gloucester.
The royal opening marks the beginning of a new phase for the school, which has been providing specialist education for children with visual impairment since it was founded in 1835.
Flat for parents
Other facilities include a multi-use games area suitable for children and young people with disabilities and a flat for visiting parents and carers.
The school is also developing its outreach programme to give extra support, training and advice to teachers of visually impaired children in mainstream schools across Scotland.
Richard Hellewell, chief executive of Royal Blind, said: "The school has undergone a very thorough refurbishment over the past year, to ensure it continues to meet the needs of our pupils in a changing landscape.
"The re-developed school offers the unrivalled knowledge and experience of our teachers in a modern, accessible setting."
Head teacher Elaine Brackenridge said: "The pupils have settled very well into their new school and are enjoying the benefits of the inclusive educational environment offered here at the Royal Blind School.
"The school ethos is very positive and vibrant and it is our aim to provide all pupils with the necessary experiences to optimise their learning opportunities."
Minister for Learning Dr Alasdair Allan MSP said: "The Royal Blind School makes an invaluable contribution to Scotland's education for children and young people with complex additional support needs, not just for those attending the school itself, but by sharing its expertise with other schools across the country."