Torness nuclear reactor has 'unplanned outage'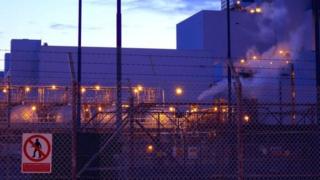 A nuclear reactor at the Torness power station in East Lothian has gone offline in an unplanned outage, its operator has said.
EDF Energy said the 640MW Torness 2 reactor went offline at 01:16 on Friday.
The unit was expected to remain unavailable for seven days, the firm said. It means nearly 5GW of British nuclear capacity is offline.
The reactor normally has a capacity of 640 megawatts.
Paul Winkle, Torness Power Station director, said: "The reactor shutdown safely and cooling to the reactor was maintained at all times. There were no health or environmental impacts."
Lang Banks, WWF Scotland director, said: "With yet another unplanned shutdown this year at a Scottish facility, nuclear power has once again shown itself to be a totally unreliable source of energy.
"Thankfully Scotland has plenty of cleaner, safer energy alternatives it can call on to be able to deal with unplanned shutdowns at atomic facilities like this.
"Last month, wind turbines in Scotland alone generated enough electricity to supply three millions homes in the UK - equivalent to 126% of the electricity needs of every house north of the border."
Reactor 1 at the plant was temporarily shut down in July due to an issue with the electrical system.