Donaldson's school for deaf children: Governors resign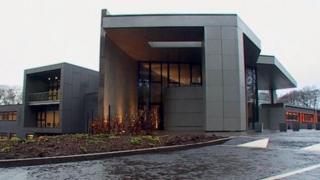 Almost half of the governors at the national school for deaf children have resigned, it has emerged.
It follows government ministers' orders for Donaldson's School in Linlithgow to come up with a plan for urgent improvements within seven days.
Concerns have been expressed by inspectors about leadership at the school and a new principal has been appointed.
Police are also assessing claims of sexual offences at the school.
It is understood seven of the 16-member board at Donaldson's School have stepped down.
Laura Battles, the recently appointed principal of the school, said she could not comment on the resignations.
She said: "Our first priority is always the safety and wellbeing of pupils and we are working with Education Scotland, the Care Inspectorate and others to ensure this.
"It would be inappropriate for us to make any further comment while this process, including Police Scotland's assessment of the concerns raised, is ongoing."