Edinburgh statutory repairs scheme may be reintroduced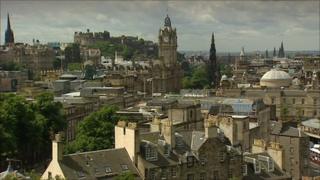 Edinburgh councillors are considering proposals to reintroduce controversial statutory repair notices for shared private properties.
The system was suspended three years ago after mismanagement cost the local authority millions of pounds but the council insists it has learned lessons.
Almost half of all properties in the city are shared tenements.
A statutory repair notice allows work to be carried out, with the council billing owners afterwards.
The system was suspended in 2011 when allegations emerged of owners being overcharged for work, which was occasionally substandard and that often did not need to be done.
The council said mismanagement was the problem and has insisted lessons have been learned.
'Last resort'
It said the new enforcement service would communicate more clearly, have a strict definition of essential work, and be a last resort rather than a first port of call for owners who cannot agree.
Councillors will vote on the proposals on Thursday.
Alasdair Rankin, Edinburgh's finance convener, said: "We are acutely aware of the issues faced by the former property conservation service and the wishes of Edinburgh residents to see the council play a role in protecting our historic capital city.
"The design set out in this blueprint pays particular attention to the lessons learned and to the need for a culture change on the part of homeowners.
"Essentially, we are aiming to balance the council's commitment to protect the fabric of the city with the need to encourage owners to take responsibility for repairs to their own homes."
He added: "In the longer term, we believe that national legislation may be required to ensure that owners of shared properties across the country are supported in taking a more proactive and planned approach to maintaining and managing their buildings and it is our intention to continue the dialogue we have already started with Scottish ministers."
Bill Cook, Edinburgh's finance vice- convener, said: "We acknowledge the risk associated with introducing this service but we believe the risk of doing nothing is greater.
"These proposals should not be viewed as a panacea solution to managing shared repairs in the city and council involvement would only be as a last resort.
"That said, we recognise that not all homeowners are in a position to manage repairs for themselves and are in genuine need of support."