Qatar Airways begins daily flights between Edinburgh and Doha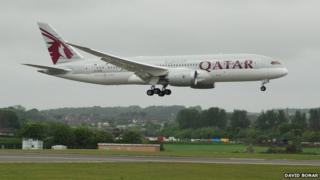 A direct air link between Edinburgh and the Middle East is to become a daily service.
Qatar Airways will increase flights of its Boeing 787 Dreamliner aircraft from 1 May 2015.
Currently, the airline flies five times a week from the Scottish capital to Doha.
Gordon Dewar, chief executive of Edinburgh Airport, said the increase to daily flights was "great news for Scottish passengers".
He said: "This reflects the fantastic relationship we've built with Qatar Airways since they joined us in May.
"Our passengers will soon be able to access over 145 worldwide destinations every day through a single transfer in Doha.
"As an airport we're committed to growing through providing choice and Qatar has proven a very popular choice for customers.
"We share a commitment of providing the very best service and experience for our passengers and we're looking forward to continuing this into 2015 and beyond."