Father of Ben Craggs describes son's death at Royal Highland Show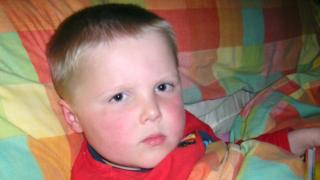 A father has told a court of the moment his three-year-old son was fatally injured at the Royal Highland Show.
Ben Craggs, from County Durham, died after being hit by a concrete bollard which overturned at the Ingliston showground in June 2008.
The Royal Highland and Agricultural Society of Scotland has pleaded not guilty to eight charges brought under the Health and Safety at Work Act.
The trial, at Edinburgh Sheriff Court, is expected to last four weeks.
The accident happened when Ben fell and seized hold of a rope connecting two of the concrete bollards, causing one of the bollards to overturn and hit him on the head.
The boy's father, Jonathan Craggs, 54, who farms at Sedgefield in County Durham, told the jury that he was at the event with Ben and his wife Dawn to show cattle on the opening day.
Mr Craggs said he had been for a walk with Ben around the machinery section and they had gone to his lorry together to fetch his white show coat.
He said: "I was locking the door when a security man ran up and shouted 'Quick, there's a little boy fallen over'. I ran round and he was lying there".
Mr Craggs said Ben had been out of sight for just two or three seconds when he heard the shout.
"I saw this concrete bollard lying on top of Ben's head," said Mr Craggs.
He said his son was not moving and had blood coming out of his nose and ears.
"I kept asking 'Ben, don't go Ben. Don't leave us. Keep with us," he said.
It is alleged the society failed to ensure moveable concrete bollards at the showground were stabilised by clamping.
Other charges allege:
the society failed to take action about defects in health and safety arrangements which were drawn to its attention by health and safety consultants.
that it employed a person as a health and safety co-ordinator who did not have sufficient competence or qualifications and did not provide him with training to undertake the job.
it failed to identify the risks of the bollards overturning, exposing employees of contractors and members of the public to risk of severe injury and death.
The trial continues.