Memorial service held in Leith for seafarers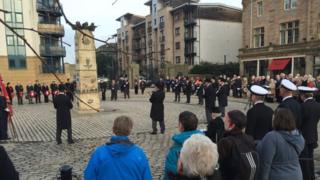 A memorial service has been held in Edinburgh to remember the thousands of Scottish merchant seamen who gave their lives during times of peace and war.
The service took place in South Leith Parish Church before a wreath-laying ceremony at the nearby Scottish Seafarer's memorial.
The memorial is a tribute to Scottish seafarers and fishermen who have died, many without a known grave.
It was unveiled three years ago by Princess Anne.
The Princess Royal is patron of the Merchant Navy Memorial Trust (Scotland).
About 20 wreaths were laid by organisations such as the Mission to Seafarers and the Merchant Navy, while civic leaders also paid tribute.
The Merchant Navy Memorial Trust (Scotland) was founded in 2009 to commemorate the sacrifice of Scottish Merchant Navy personnel in theatres of conflict and in peacetime service along the trading routes of the world.