Cat rescued from sewage works tank reunited with owner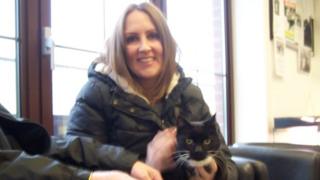 A cat which fell 20ft into a tank at a West Lothian sewage works has been reunited with its owner.
The cat was rescued on Thursday in an operation involving firefighters and animal rescue staff.
Firefighters climbed down a ladder into the tank and coaxed the animal into a cage, which was then hoisted up.
The Scottish SPCA was caring for the cat in its Edinburgh centre when one of its owners, Pamela Reid from Armadale, came forward.
Workers at the Edinburgh and Lothians Animal Rescue and Rehoming Centre in Balerno nicknamed the feline Fireman Sam - though his real name, Mick Mac, was revealed by his owner.
Paul Lacki, a worker at the Armadale plant, raised the alarm after hearing the animal's cries on Wednesday.
It is thought the neutered black and white male cat may have been trapped for a while and could have drowned if rain had caused the tank water to rise.
Animal rescue officer Steph Grant said : "It's a 20ft drop, so there's no way he would have been able to get back out on his own.
"Heavy rain would have caused the water in the tank to rise and Sam would have drowned, so although he may not feel very fortunate he has had a lucky escape."