World's End murder trial: Jury sent out to consider verdict on Angus Sinclair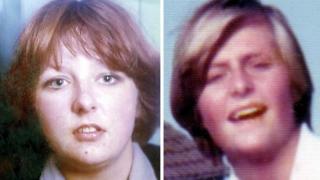 The World's End murder trial jury has been sent out to consider its verdict.
Angus Sinclair, 69, denies raping and murdering 17-year-olds Christine Eadie and Helen Scott in 1977.
The judge said the jury should take as much or as little time as they need. Mr Sinclair blames his brother-in-law, the late Gordon Hamilton who died in 1996.
Lord Matthews said the jury had possibly heard in the media about the girls, which may arouse "feelings of sympathy and of revulsion".
He told them at the High Court in Livingston they had to put that out of their minds and not to base the verdict on any emotions.
Blunt force
Lord Matthews told the jury: "There is no dispute that murder has been committed in this case, the issue is who committed it.
"Both counsel have urged you to take the view that Gordon Hamilton committed the murders. The real issue is whether he committed the crime on his own."
Mr Sinclair admits having sex with both girls but denies rape and murder, blaming Mr Hamilton.
He denies inflicting blunt force injuries on Ms Eadie by repeatedly punching and kicking her on the body and biting her.
He also denies forcing Ms Scott to walk barefoot into a field, ripping the strap from her handbag, repeatedly punching and kicking her on the head and body and stamping on her head.
He further denies stealing clothing, footwear, jewellery and other personal effects from the teenagers in an attempt to pervert the course of justice.