World's End trial: 'Overwhelming evidence' for guilty verdict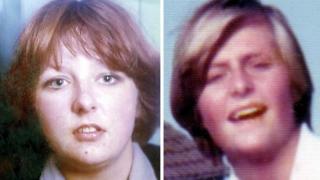 The jury in the World's End murder trial has heard there is "considerable, powerful and overwhelming evidence" to return a guilty verdict.
In his closing submission, Lord Advocate Frank Mulholland said justice had "no sell-by date in Scotland".
Angus Sinclair, 69, denies murdering and raping Christine Eadie and Helen Scott after meeting them in the World's End pub in Edinburgh in October 1977.
Mr Mulholland, prosecuting, said the girls' families still wanted justice.
He added: "This case has not been allowed to gather dust on a shelf and the file has never been closed."
Mr Mulholland told the jury the girls had suffered a "terrifying" death in "horrific" circumstances.
'Devoid of credibility'
In his closing speech to the jury, who have been hearing five weeks of evidence at the High Court in Livingston, Mr Mulholland said parts of the accused's story were "ludicrous".
Mr Sinclair gave evidence earlier this week in which he said he and his brother-in-law Gordon Hamilton, who he blames for the murders, met the girls in the pub.
He said they later drove to Holyrood Park in his caravanette, where both men had consensual sex with each girl before they all travelled to East Lothian because he wanted to go fishing.
Mr Sinclair said Hamilton, who has since died, left in the caravanette and he thought the girls were being driven home. He has said they were "alive and unharmed" when he left them.
He told jurors that he only found out what happened to the teenagers after reading about it in a newspaper the following Tuesday.
Mr Mulholland told the jury: "My only regret in this case is that Hamilton is not sitting alongside Sinclair in the dock."
He said the suggestion that Hamilton could "overpower" both girls on his own was "ludicrous".
The Lord Advocate said Sinclair's evidence that Hamilton returned to East Lothian and was "neither up nor down" and that he was not in a hurry to leave the area did not stack up and was "devoid of all credibility".
Mr Mulholland suggested to the jury that the "totality of the evidence is considerable, powerful and quite frankly overwhelming".
'Appalling murders'
He added: "It exposes as a lie the incredible story put forward by Sinclair on what he says happened that night.
"I invite you as a jury to return a verdict of guilty to both charges that Angus Sinclair was responsible with his brother-in-law Gordon Hamilton for these appalling murders."
The defence has also finished its closing submissions to the jury.
Ian Duguid QC said the evidence points almost irrefutably to Gordon Hamilton being a killer.
But he said the only issue to decide was if Angus Sinclair was part of some sort of "concerted common enterprise".
Mr Duguid urged acquittal as he said the Crown's case that Sinclair was there and participated in the killings was fatally flawed.
The judge, Lord Matthews, will begin his charge to the jury on Friday.
Mr Sinclair admits having sex with both girls but denies rape and murder, blaming Hamilton.
He denies inflicting blunt force injuries on Ms Eadie by repeatedly punching and kicking her on the body and biting her.
He also denies forcing Ms Scott to walk barefoot into a field, ripping the strap from her handbag, repeatedly punching and kicking her on the head and body and stamping on her head.
He further denies stealing clothing, footwear, jewellery and other personal effects from the teenagers in an attempt to pervert the course of justice.
The trial continues.