World's End trial: Prosecution case closes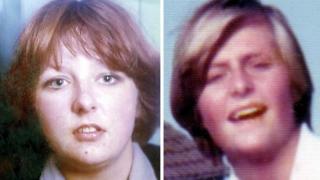 The prosecution in the World's End murder trial has closed its case.
Angus Sinclair, 69, denies raping and murdering 17-year-olds Helen Scott and Christine Eadie in October 1977.
The teenagers were last seen outside the World's End pub in Edinburgh.
Mr Sinclair has blamed his late brother-in-law Gordon Hamilton for their deaths.
Forensic scientist Andrew Davidson was the last witness to give evidence for the Crown on the 20th day of the trial at Livingston High Court.
Mr Davidson said he agreed with Ian Duguid QC, who is defending Mr Sinclair, that the quality of DNA found on samples of clothing taken from the girls had degraded over time and was "low level".
But he said he disagreed that the samples were unsuitable for meaningful interpretation.
'Tied and bound'
Lord Advocate Frank Mulholland, who is prosecuting the case, asked Mr Davidson about a ligature made from a belt from Helen Scott's coat found tied around her wrist.
Asked if one explanation for Christine Eadie's DNA being the most prominent on it was that she tied it because she was ordered to do so, Mr Davidson said: "yes tying or trying to untie it."
The defence is expected to begin presenting its case on Tuesday.
Mr Sinclair is alleged to have gagged the girls, bound their wrists and tied a ligature around their necks.
He denies inflicting blunt force injuries on Ms Eadie by repeatedly punching and kicking her on the body and biting her.
He also denies forcing Ms Scott to walk barefoot into a field, ripping the strap from her handbag, repeatedly punching and kicking her on the head and body and stamping on her head.
And he denies stealing clothing, footwear, jewellery and other personal effects from the teenagers in an attempt to pervert the course of justice.
The trial continues.