Remembrance poppies from mystery book sculptor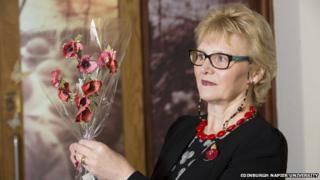 The mystery artist behind intricate book sculptures that were anonymously delivered to locations around Scotland has struck again.
The artist has created a new piece - a bouquet of poppies - in honour of Remembrance Day.
The poppies sculpture was delivered to the War Poets Collection at the Craiglockhart campus of Edinburgh Napier University.
It is now on display there, and, it is hoped, will stay permanently.
The sculpture was hand-delivered to War Poets Collection curator Catherine Walker in a long cardboard carton.
Ms Walker said: "I was very puzzled. I had not expected anything and had no idea what was in the box."
The poppies, encased as though in a bouquet, are made from red and green printed paper, and are labelled "Lest We Forget 11.11.11".
'National symbol'
There is a particular significance to the chosen location.
The Craiglockhart campus stands on the site of the former Craiglockhart War Hospital, where the acclaimed war poets Wilfred Owen and Siegfried Sassoon met.
"The War Poets Collection allows the university to remember the unique history of Craiglockhart Campus," explained Ms Walker.
"The officers, doctors and nurses who gave so much during the Great War a century ago remain in our memories, so poppies, as the national symbol of remembrance, is particularly apt and poignant."
It is hoped that this sculpture will be given a permanent home at the collection, in its own glass display case.
If so, it will join another piece by the same artist, "Butterflies", which depicts butterflies fluttering out of an open book.
That was loaned to the collection by entrepreneur and part-time Edinburgh Napier lecturer Dr Colin Mackenzie, whose family bought the sculpture at auction.
Preserved anonymity
The anonymous artist first hit the headlines after a series of ten sculptures created from old books was discovered at cultural locations in Edinburgh in 2011.
The sculptures were accompanied by labels in which the artist made reference to the power of literacy, and in some, argued against cuts to arts funding.
Despite apparently being known within some circles, the artist has managed to preserve her anonymity to the general public, although she is widely believed to be a woman.
The sculptures toured Scotland in late 2012, and are also the subject of a book.