Angus Sinclair: Scotland's worst serial killer?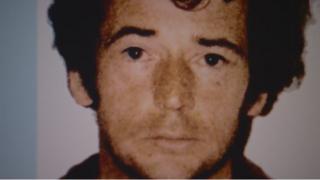 The long-awaited guilty verdicts in the case of the World's End murders mean Angus Sinclair has now been convicted of four killings. But he is suspected of many more.
I have investigated Sinclair's brutal criminal past and I have met the detectives who spent much of their careers pursuing him as well as speaking to some of his victims who lived to tell the tale.
They all paint a chilling picture of a Jekyll and Hyde character, whose cynically violent streak and obsession with sex would wreak havoc across central Scotland during the 1970s and early 80s.
Including World's End victims Helen Scott and Christine Eadie, Sinclair is suspected of murdering six women in seven months. Of those, he has only ever been charged with the World's End pair.
---
World's End guilty verdict
---
Former Lothians Detective Superintendant Allan Jones said that a killing spree of this magnitude had not been seen in Scotland in modern times.
He said: "There's no other thing to compare it to, really. There have been serial killers elsewhere, in other countries. But in Scotland, no - there's nothing else.
"Peter Tobin is clearly one of the worst killers we've ever seen in recent times, but Sinclair is by far the worst."
Sinclair's obsession with sex was evident from an early age. For a BBC programme five years ago, I uncovered a psychiatrist's report about Sinclair.
It said: "I do not think that any form of psychotherapy is likely to benefit his condition and he will constitute a danger from now onwards.
"He is obsessed by sex, and given the minimum of opportunity, he will repeat these offences."
This was written when Sinclair was just a boy, after he killed his first victim in 1961, aged just 16. And its chilling warnings would not be heeded.
---
Angus Robertson Sinclair - a life of abuse, rape and murder
1959 - stole an offertory box from a Glasgow church, aged 13
1959 - housebreaking charge
1961 - committed lewd and libidinous practices on an eight-year-old girl. Sentenced to three years' probation
1961 - convicted of killing Catherine Reehill, aged seven. Sentenced to 10 years in prison. Serves six years
1970 - marries trainee nurse Sarah Hamilton (Gordon Hamilton's sister) and has a son two years later
1977 - thought to have murdered six women within seven months. Frances Barker, 37, Hilda McAuley, 36, Agnes Cooney, 23, and Anna Kenny, 20, all from Glasgow as well as Christine Eadie and Helen Scott from Edinburgh
1978 - murdered 17-year-old Mary Gallacher in Glasgow
1980 - illegal possession of a .22 calibre revolver
1982 - pleaded guilty to rape and sexual assault of 11 children aged six to 14. Sentenced to life in prison
2000 - cold case review of 1978 Mary Gallacher murder
2001 - convicted of the murder of Mary Gallacher
2007 - trial for murders of Christine Eadie and Helen Scott collapses
2014 - retrial finds Sinclair guilty of World's End murders
---
The 16-year-old Sinclair had lured his seven-year old neighbour Catherine Reehill and raped and strangled her. The calculated manner in which he disposed of the body and tried to cover his tracks shocked police.
He even called the ambulance himself, telling the operator, that "a wee girl has fallen down the stairs".
But detectives could not break him down, so they turned to his older brother John, who persuaded him to confess.
John told me that he wished he had stopped Angus in his tracks there and then.
Speaking to me in 2009, he said: "I would have done time for him. I would have killed him. If I'd known years ago I'd have pushed him in the bloody canal. And all these people, all these girls, would never have had that."
John cut his brother off forever from that day onwards. He said: "I would just have nothing to do with him, nothing do to with him. He can rot in prison."
But Angus Sinclair's life of crime was only just beginning. He served just six years for that killing. He was released, and became integrated into society and was a skilled tradesman. He even married and had a son.
But in 1977 there was a spate of murders across Scotland. Six young women disappeared after nights out, and were found dumped on deserted farmland or waste ground.
Two of those victims were teenagers Helen Scott and Christine Eadie, who had last been seen at the World's End pub on Edinburgh's Royal Mile.
The biggest manhunt in Scottish police history was launched. But it would lead nowhere.
At that time, police did not link the killings to another four murders which had happened in Glasgow within a few months of each other.
Frances Barker, 37, Hilda McAuley, 36, Agnes Cooney, 23 and Anna Kenny, 20, had been killed and dumped in strikingly similar circumstances.
All had been bound and gagged with items of their own clothing.
In a striking twist, the last person to see victim Anna Kenny alive, Wilma Sutherland, became the wife of Gordon Hamilton, Sinclair's accomplice, just months after this spate of murders.
Some detectives believe the circumstances of this too improbable to be a coincidence. But Hamilton became an alcoholic and died a pauper's death in a Glasgow homeless shelter in 1996, before he could be held to account for his actions.
It would be a quarter of a century before police would realise the World's End and Glasgow murders were uniquely similar, and might be linked.
But Sinclair was not quite finished. Around a year after World's End, 17-year-old Mary Gallacher was abducted in Glasgow, and raped and murdered. Like the others, a ligature had been involved and she died from a knife wound to her throat.
But this time, he had been seen. There had been a witness to the abduction, and police had come close to identifying a suspect.
This close shave, criminologists believe, was the signal for Sinclair to change his tactics. He needed easier targets, and so he began to prey on children.
Between 1978 and 1982, Angus Sinclair would rape or indecently assault countless children across Glasgow.
I met two of his victims, both grown women. One told me told me how he had lured her into a tenement.
She said: "He asked me if I could do him a favour and go and take his mum's change up to her and he told me what close and what door."
"[Then] he just grabbed me and he said listen I've got a knife and if you don't do as you're told, then I'll kill you.
"I thought I'll just do as I'm told and be quiet. So I just shut my eyes and just hoped he'd go away."
It is not known how many children Sinclair attacked during this period. He was finally caught in 1982, and pleaded guilty to 11 charges of rape and indecent assault, although he admitted his victims could have numbered in the hundreds. He was sentenced to life.
It would be almost 20 years later, when he was being prepared for parole, that one of his old crimes came back to haunt him: the 1978 murder of Mary Gallacher.
A cold case review had revealed Sinclair's DNA had been on the victim.
Former DCI Brian Murphy of Strathclyde Police, who led the investigation into the Gallacher case, said Sinclair had shown no remorse.
He told me: "He's one of the most evil people I've certainly interviewed, in my life. There were things going on in his head which clearly I couldn't reach."
But three years later in 2004, some ingenious detective work and cutting edge science was about to put Sinclair in the frame for World's End.
His DNA, and that of his dead brother-in-law, Gordon Hamilton, was found on a semen stain taken from Helen Scott's coat.
And Operation Trinity, the joint Lothian and Borders/Strathclyde Police investigation, was also looking at the unsolved Glasgow murders, and for the first time was treating all six as connected.
They had reviewed every murder in Scotland since 1968 - more than 1,000 - and found that only six bore the same uniquely similar characteristics. They had all been bound and gagged with items of their own clothing. And they had all happened within seven months.
Scottish police decided to ask for a second opinion, and turned to the world's foremost authority on serial killers, the FBI.
Former special agent Mark Safarik spent months poring over the evidence. I met him near the FBI's HQ in Quantico, Virginia, and he told me he was confident all six murders had been the work of a lone serial killer.
He said: "They brought six cases, and really the request for us was, can you look at all six of these cases and render an opinion about whether you think these cases are linked or not? And we requested all the case information, photographs, autopsy reports, anything that they had back from 1977.
"And after our analysis it was really clear to me, I felt very strongly, that all these crimes had been committed by the same offender."
Scottish police planned to charge Sinclair with all six murders.
But there were two problems:
Strathclyde police had lost all the evidence from the unsolved Glasgow murders.
But even more embarrassing than that, was that someone was already in prison for the murder of Frances Barker - the first in the sequence from 1977 - and had been for almost 30 years.
The Crown decided to drop the Glasgow cases, and go all out on World's End. Sinclair went on trial in 2007 and that attempt ended in disaster.
Sinclair is now convicted of murdering Helen Scott and Christine Eadie, but former detective Allan Jones, for whom catching the World's End killer became a life's work, believes Sinclair should have been prosecuted for all six murders - including the Frances Barker case.
He said: "Knowing the evidence that exists, and having the ability to have my own opinion, I still believe there's very strong evidence to support the case against Angus Sinclair."
Thomas Ross Young, the man who was imprisoned for the murder of Frances Barker, continued to plead his innocence until his death in July this year.
No-one has ever been charged with the murders of Agnes Cooney, Hilda McAuley and Anna Kenny.
Tom Wood, former deputy chief constable of Lothian police and the man who spearheaded the Operation Trinity, believes Sinclair still has much to answer for.
He said: "Throughout his life…he has been nothing but disaster to almost everyone he has met.
"He is a violent criminal; he committed extremely violent robberies, a string of very serious sexual offences against young girls, as well as the murders we now know he committed.
"And I believe there are probably many, many more crimes he has committed, and we will probably never know."
BBC Scotland Investigates: The World's End Murderer will be shown on BBC Two Scotland at 22:30