World's End samples 'well-handled'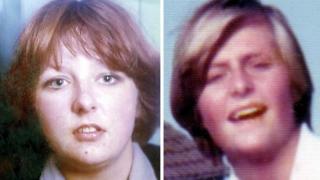 A forensic scientist has told the World's End murder trial that samples from 1977 were in "very good condition" when he analysed them for DNA.
Andrew Davidson, 46, said he believed scenes-of-crime work following the discovery of Christine Eadie and Helen Scott's bodies had been "well-handled".
Mr Davidson said he had worked on the samples for 18 months.
He is the last witness to give evidence for the prosecution in the trial of 69-year-old Angus Sinclair.
Mr Sinclair denies raping and murdering the 17-year-olds in October 1977.
He is accused of carrying out the attacks along with his late brother-in-law Gordon Hamilton.
Forensic science
Christine and Helen were last seen at the World's End pub in Edinburgh and their bodies were discovered in East Lothian the following day.
Mr Davidson, who works for the Chorley-based organisation Cellmark, carried out DNA analysis on various items of clothing found on the bodies of the girls, including tights and belts used as ligatures to bind them.
He co-authored a report on the findings with his wife, forensic scientist Geraldine Davidson.
Among the findings was the conclusion that DNA evidence provides "extremely strong support for the view that Gordon Hamilton and/or Angus Sinclair were involved in the restraining and strangling of both Helen Scott and Christine Eadie, rather than an unknown and undetected individual or individuals".
Mr Davidson said he believed "scenes of crime was extremely well-handled" and the material he was given to look at was "still preserved in a very good condition".
Mr Davidson, who has been giving evidence over two days, was later questioned by defence QC Ian Duguid.
Confined space
The lawyer stated that, with one exception, where DNA matching Mr Sinclair's genetic material appeared on the items analysed, DNA matching Hamilton's profile was also always present.
One interpretation of that could be that "Hamilton is moving Sinclair's DNA around at various places", the lawyer said.
The witness agreed, when questioned, that such DNA transfer could have occurred at close proximity in the confined space of a caravanette.
The court has already heard how Mr Sinclair claims he and Mr Hamilton had consensual sexual intercourse with both girls in a caravanette in Holyrood Park, Edinburgh, before he went to East Lothian, where he left the girls unharmed.
Mr Sinclair is alleged to have gagged the girls, bound their wrists and tied a ligature around their necks.
He denies inflicting blunt force injuries on Ms Eadie by repeatedly punching and kicking her on the body and biting her.
He also denies forcing Ms Scott to walk barefoot into a field, ripping the strap from her handbag, repeatedly punching and kicking her on the head and body and stamping on her head.
And he denies stealing clothing, footwear, jewellery and other personal effects from the teenagers in an attempt to pervert the course of justice.
The trial at the High Court in Livingston continues.