Madison Horn death: Court hears of 'extensive' injuries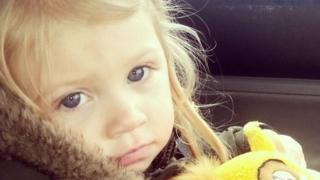 Two-year-old Madison Horn had a head fracture, extensive internal injuries, bruising to her face and some of her hair pulled out, a court has heard.
The youngster also had a potential bite on her leg and blood on her pyjamas.
Kevin Park, 27, denies murdering Madison at the family home in Kelty, Fife, on 20 April.
The High Court in Glasgow heard from a consultant paediatrician who battled to save the toddler's life when she arrived at hospital.
The court has heard that Mr Park - the former boyfriend of Madison's mother, Anne Marie White - made a 999 call at 18:18 saying Madison had fallen from a bed and her lips were blue.
The court earlier heard that he was looking after the toddler while Ms White was out with friends.
'Irretrievable situation'
Dr John Morrice from the Victoria Hospital, Kirkcaldy, told the trial it was unlikely that the massive brain and internal injuries suffered by Madison could have been caused by jumping on a bed and then falling off when it collapsed.
He said: "I see lots of children coming in who have fallen from beds and I do not see them coming in with injuries like that."
He told how he and colleagues battled to save the toddler when she was brought in gravely ill and added: "She was incredibly unstable. She was a really sick little girl."
Mr Morrice said a CT scan on Madison's brain showed that she had a significant skull fracture and there was "evidence of swelling on the brain consistent with the brain having been starved of oxygen for a time".
The court heard a scan of her body revealed evidence of injury to her small bowel and liver and there was bleeding to her liver.
The consultant said he discussed Madison's case with specialists at the Sick Kids' Hospital in Edinburgh and added: "They had looked at the CT scan of the brain injury and their comment was that it was an irretrievable situation. Her brain was so damaged it was inevitable she was going to die.
"The brain looked so badly damaged that they hadn't got on to look at other injuries."
When asked about the possibility of Madison falling from a bed, Mr Morrice said: "Falling from a bed would not explain the injuries I saw."
DNA evidence
The court heard from forensic scientist Kirsty McTurk that there were two indentations in the hallway wall near Madison's bedroom. A blonde hair was caught in a crack in one of the indentations.
The hair was a match for Madison's DNA. Miss McTurk said the possibility of it being anyone else's was "one in a billion".
Madison's DNA was also found on the indentations, which Miss McTurk said was consistent with her exposed skin having been in contact with the wall.
The pyjamas Madison was wearing that night were found to have spots of her blood on them.
Her pyjama bottoms were tested for saliva to find out who had potentially bitten her, but the only DNA found was Madison's.
Miss McTurk said that blood staining was found on a dressing gown found in the house, and that she had found "a clump of blonde hairs" which "had roots on them and were consistent with having been pulled from the scalp".
She said that the probability the blood and the hairs were not Madison's were a billion to one.
The main DNA found on the dressing gown was that of Mr Park. Miss McTurk said: "Either this blood and hair was transferred after an assault on her by Kevin Park or he was in contact with her after she had been injured."
'Emotionless'
Earlier DC James Scarborough told the jury that Mr Park was "emotionless" when he charged him with murder. He said: "It didn't seem to bother him in the slightest."
DC Laura Nash told the court she took a statement from Mr Park while he was being treated as a witness.
He had told her he had heard a bang from the bedroom and found Madison lying on the floor. He said he carried her into the living room and lay her on the sofa but said she kept falling asleep.
Mr Park said he called an ambulance when he saw her lips were blue, her eyes were open and she was not responding.
DC Nash said Mr Park told her he had had a glass of Morgan's Spice rum and one and a half joints earlier that day.
The charge against Mr Park includes claims that he shouted at Madison, pulled her hair, lifted the child up and repeatedly struck her head against a wall.
It goes on to allege that he also bit the toddler on the body before repeatedly striking her again "by means to the prosecutor unknown".
The trial before judge Michael O'Grady continues.