World's End murders: Father's promise to dying wife he would pursue justice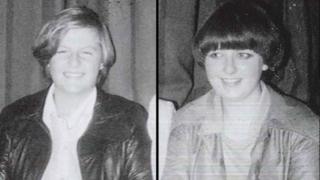 For 37 years the families of Helen Scott and Christine Eadie have waited for justice for the teenagers who were murdered by Angus Sinclair.
The 69-year-old has now been jailed for life for raping and killing them and will die in prison.
But justice for the girls has taken a long time, with many disappointments and false hopes along the way.
The worst blow during that time came in 2007 when Sinclair's first trial collapsed.
But the families never stopped fighting to see the man responsible convicted.
Helen Scott's mother, Margaret, died in 1989 without even knowing who had killed her daughter 12 years earlier.
---
World's End guilty verdict
---
In a BBC interview recorded as she tended Helen's grave, she told of the effect the murder had on her family.
"Every day, or during the night especially, I sometimes sit quite a long time during the night thinking about it; when it's going to be solved.
"It's been a living sorrow to my whole family really."
Within a few weeks Mrs Scott had died. But she knew her husband Morain would do his best to pursue the truth.
Mr Scott, who is now 84, said: "I made that promise to her the day she died. We were talking about Helen up in the hospice the day she died.
"I made that promise. I didn't know how I was going to do it, but I would try to get this conviction. "
He said he believed that Sinclair's conviction means he has fulfilled that promise, even though it was a weight on his shoulders over the years.
"I never wanted to put this burden on anyone else. I wanted to keep it for myself.
"I wanted my family to be able to live their own lives, and not be laboured and tied down with my feelings and thoughts."
While Helen's family was pursuing the truth and justice, so were the police.
Three generations of officers have investigated the brutal murders.
Among them former deputy chief constable Tom Wood whose cold case review in 2004 led to Angus Sinclair finally being charged.
He says such a crime deserved to be answered; solving it would ensure justice was done.
"We sometimes lose sight of the fact that we are dealing here with the brutal deaths of two young girls whose life was snuffed out before they had the chance to show any potential.
"Who knows what they may have become. Who knows what their children, their grandchildren may have become.
"And it's when you look at that damage and the huge hurt done to their families over all these years you begin to see what the real point about this is, and why it was so important to try and try and try again, and when we failed, to keep trying."
There have been moments of false hope and disappointment for the girls' families over the years since their murders.
New evidence
In 2007 Sinclair's trial collapsed because the prosecutor failed to put crucial forensic evidence before the jury.
This led to a change in the law to allow a second prosecution, ending the centuries-old principle of double jeopardy which prevented an accused being brought back to court for the same crime.
But that could only happen if new evidence could be found.
Christine Eadie's family have never spoken publicly about the murders, but Morain Scott said the attempt to hold a second trial was another strain.
He said: "In my mind, and what I believed it had to be stronger, even than the evidence you had in the initial trial.
"And it had to be brand new. You just had to believe that it could happen."
In a four-day hearing at the High Court in Edinburgh, a panel of three judges ruled the evidence being offered by the prosecution was new, and the second trial went ahead.
Morain Scott said the ending of double jeopardy is Helen's legacy.
"It leaves hope for all other families within Scotland that if there's a case falls the same way, there's always a chance for them.
"And they can come back and get the justice they're looking for, the same as for me and the family, and Christine's family have been looking for."
Speaking outside the court after the verdict and sentencing, Kevin Scott, Helen's brother, reiterated that point.
He said: "Decades after their deaths, Helen and Christine's legacy is to have changed Scotland's justice system for the better.
"The introduction of the double jeopardy amendment will prevent other families suffering the way we have."
BBC Scotland Investigates: The World's End Murderer will be shown on BBC Two Scotland at 22:30