Police Scotland probe Eyedak Kickstarter allegations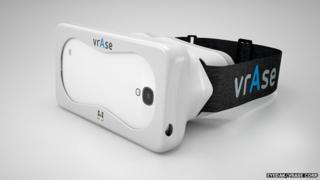 Police Scotland is investigating allegations about a virtual reality device developer's crowd-funding campaign.
Eyedak, which has operations in Edinburgh and Gran Canaria, is creating a headset called vrAse. It turns images on a smartphone screen into 3D visuals.
Police said the developers were fully co-operating with the investigation.
Eyedak said a misunderstanding over a delay in delivering the device had led to the claims.
Action Fraud, the UK's national fraud and internet crime reporting centre, looked into the allegations before handing the matter over to police in Edinburgh.
A Police Scotland spokeswoman said: "Police Scotland is looking into allegations but enquiries are at an early stage.
"Eyedak are fully co-operating regarding funding they have received."
The Gran Canaria side of the business is leading the development of vrAse, while the Edinburgh operation is marketing it.
Miguel Schiaffino, CEO of Eyedak, said the allegations related to its Kickstarter crowd-funding campaign.
He said police had received all the documentation needed to prove that the money raised was being used correctly, and his understanding was the matter had been resolved.
Mr Schiaffino said: "The reason for this investigation was a claim from some of our backers due to the delay in the delivering of the units they have to receive after supporting the campaign.
"We are a really small start up with limited resources, so we are not able to speed up the project as much as we would like."
He said Eyedak had apologised for the situation, adding that the company may not have clearly communicated the reason for the delay, and been in contact more regularly, with its supporters as it should have.
Growing interest
Modifications to improve the headsets had caused a delay in delivering the product, the CEO said.
Mr Schiaffino added: "Fortunately, we're about to start industrial production and our supporters will start enjoying their devices soon."
Almost three years in the making, vrAse turns images on a smartphone screen into 3D visuals.
It could be worn to watch films, television and play games.
Known as augmented reality, the new way of seeing images and gaming is reported to be attracting growing interest from businesses.