Mandi McGunnigle fined for failing to care for horses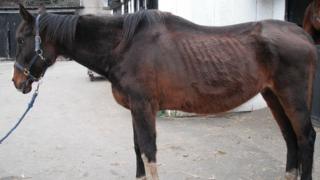 A West Lothian paddock owner has been fined for failing to look after two horses in her care.
Livingston Sheriff Court heard that one of them, which has since died, was described by vets as "starved".
Mandi McGunnigle, 44, earlier pled guilty to failing to protect the animals from "injury and suffering".
She admitted maltreating two horses over a three-month period in 2012 and was fined £550, however she was not banned from keeping animals in future.
Despite being on benefits, she assured the court she was able to meet veterinary bills for four Shetland ponies she still looks after on her fields near Fauldhouse, West Lothian.
She told the court she had educated herself about animal welfare by passing a series of exams since the offence.
'Profound weakness'
The court heard how McGunnigle failed to provide water for the horses and tethered them so tightly they were unable to behave normally.
She also failed to get a farrier to treat the horses' hooves, and did not provide a stable diet and adequate nutrition for one of the horses, which later died from a stomach problem.
Vets gave Andi, a thoroughbred bay gelding, a score of one in five because the animal was "starved", needed urgent attention to all four hooves and showed evidence of mud fever, which caused hair loss.
In addition, it was in "extremely poor" bodily condition, suffered from "profound weakness" and, according to the vet, was "experiencing pain".
Chestnut Belgian draught mare Bella was given a health score of 2.5 out of five. The animal had cracks in its hooves, suffered from alopecia and had a worm problem.
First offender
McGunnigle collapsed from stress when SSPCA inspectors challenged her about the animals and an ambulance was called.
The court was told the horses ravenously ate grass and drank from puddles nearby.
Alan Jackson, defending, said McGunnigle had been suffering from several medical conditions before the incident.
Sheriff Peter Hammond said he took into account that McGunnigle was a first offender and had taken steps to address the SSPCA's concerns about her care of horses.
Commenting on the investigation and court case, Insp Jennifer Surgeon said that when they arrived, the horses were tied up in a "boggy, unfenced field with no drinking water".
She said Andi's vertebrae and pelvic bones were visible and that he was inadequately tethered.
She commented that Bella's tethering meant she was unable to move and that she had a "severe crack" to her left hind hoof.
Insp Surgeon added: "Tragically, Andi was in such poor condition he died shortly after coming into our care. Bella has since been rehomed."