World's End murders: Possible DNA match between accused and victims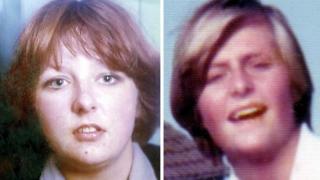 The World's End murder trial has heard of possible DNA matches between the accused and two girls killed in 1977.
The High Court in Livingston was told Angus Sinclair "cannot be excluded" as a contributor of DNA on the bodies of Helen Scott and Christine Eadie.
Forensic scientist Susan Ure said it was up to 106 times more likely to come from Sinclair than anyone else.
Mr Sinclair denies carrying out the attacks along with his brother-in-law, Gordon Hamilton, who is now dead.
Ms Ure, 42, said she analysed four swabs taken from Ms Scott's body.
The court heard they matched the DNA profile of Mr Hamilton.
The jury was told that one of those swabs also contained a minor DNA profile of another individual, which was present at a lower level.
Ms Ure told the court: "If you assume that this DNA is originated from one individual, Angus Sinclair cannot be excluded as a contributor of this minor DNA component."
The court was also told about three swabs taken from Ms Eadie's body.
'Walked in field'
Two produced full matches with Mr Hamilton's profile, as well as "weak indications" of DNA from another individual.
Mr Sinclair was, in reference to one swab, said to be 45 times more likely to be the source of that minor DNA than someone else.
The court had earlier heard that Helen Scott may have walked into the field where her body was found.
A soil expert examined debris taken from Helen's feet after she was found dead in East Lothian in 1977.
Prof Lorna Dawson said there was strong evidence that Ms Scott had stood or walked in the wheat field.
She compiled two reports for the court earlier this year.
In one of them, she concluded that "the soles of Scott's feet had come into contact with a wheat field" and that her feet had picked up debris "consistent with having come from a grassy environment".
From her analysis, she concluded there was "strong evidence that Helen Anne Scott had likely stood or walked in the wheat field at Huntington/Coates".
Ian Duguid QC, representing Mr Sinclair, put it to the witness that the results had mostly stemmed from analysis of a single foot, Ms Scott's left.
He pointed to differences in the wording of the two reports compiled by Prof Dawson and also said that, in photographs taken at the site in 1977, the soles of Ms Scott's feet appeared uninjured.
'Backed into bushes'
The court later heard of a sighting of a "light-coloured caravanette" in East Lothian on the morning of 16 October 1977.
Retired police officer John Hamilton, 65, told the court of a statement he took in 1977 from a man named Robert Cunningham, who is now dead.
In it, Mr Cunningham said he spotted the vehicle as he returned home from work at Cockenzie Power Station at about 07:00 on 16 October that year.
He said he saw the vehicle to the east of a toilet block in Longniddry which was backed into bushes.
Mr Sinclair is alleged to have gagged the girls, bound their wrists and tied a ligature around their necks.
He denies inflicting blunt force injuries on Ms Eadie by repeatedly punching and kicking her on the body and biting her.
He also denies forcing Ms Scott to walk barefoot into a field, ripping the strap from her handbag, repeatedly punching and kicking her on the head and body and stamping on her head.
And he denies stealing clothing, footwear, jewellery and other personal effects from the teenagers in an attempt to pervert the course of justice.
Mr Sinclair has lodged three special defences, of incrimination, consent and alibi.
The trial at the High Court in Livingston continues.