World's End murders: Trial hears former girlfriend's evidence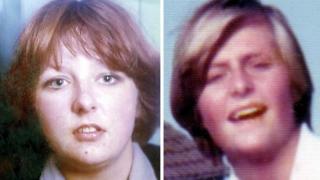 The World's End murder trial has heard from a former girlfriend of the man accused of killing two teenage girls in 1977.
Angus Sinclair, 69, denies raping and murdering Helen Scott and Christine Eadie who were last seen at the World's End pub in Edinburgh.
His former girlfriend Carolyn Mitchell, who died five years ago, gave a statement to the police in 2004.
Her words were read to the jury by the officer who took the statement.
Now retired, Det Sgt Joan Shanks took Ms Mitchell on a tour, ten years ago, of places she used to go to with Mr Sinclair.
In court the former police officers read her words to the jury.
'Eerie feeling'
In the statement, Ms Mitchell told officers: "Gus was really nice to me and he showed me love."
He only showed his temper on one occasion, the court heard.
The jury heard how the witness went to various locations in Edinburgh and East Lothian with police.
One of the locations, the World's End pub, was "where Gus and I used to go", she told officers.
In the statement, Ms Mitchell also told of meeting two brothers in a pub outside Edinburgh.
"The brothers showed him how to tie knots." she told police.
"They had blue rope. I'd never seen blue rope before."
Ms Mitchell also told police she got an "eerie feeling" at a sharp bend in a road in East Lothian, which Ms Shanks described as being two or three minutes from the site where Helen's body was found.
During cross-questioning, Ian Duguid QC suggested police had driven Ms Mitchell to the area to "engender some reaction on her part".
Earlier the trial heard from retired odontologist who said that marks on Christine Eadie's body were a possible human bite mark.
Dr Howard Moody, 71, examined a photograph of her arm taken at the time of her death in October 1977.
He said it made him think "this was an aggressive human bite mark".
Knots tied
Under cross examination, Dr Moody told the High Court in Livingston that, as he could not see features of all six upper and lower teeth, he was "cautious" about the exact cause of the marks.
He said that is why he said the bite mark was "possible, not probable".
Dr Moody said: "The almost circular mark is a possible human bite mark.
"If it is accepted as a possible bite mark, it is an aggressive bite mark. It is an aggressive one with no evidence of amorous engagement."
An expert examiner of knots told the trial that it was likely that the ligatures on the two victims had been tied by two different people.
Forensic scientist Rodger Ide examined the ligatures used to bind the wrists of Christine Eadie and Helen Scott and also those tied around their necks to strangle them.
He said two of the knots tied around Christine Eadie's body were more skilful and had been tied by someone who knew a little bit more about what they were doing.
Dr Ide said that was his opinion but that he cannot be sure.
He said: "I've looked at many different bindings to victims of different sorts over many years and you sort of recognise the handwriting.
"Two of the knots on Christine Eadie were the more skilful. Someone who may have thought it out a bit better.
"But I think it's likely the two were tied by different people - but I can't be sure of that."
Special defences
Mr Sinclair is alleged to have gagged the girls, bound their wrists and tied a ligature around their necks.
He denies inflicting blunt force injuries on Ms Eadie by repeatedly punching and kicking her on the body and biting her.
He also denies forcing Ms Scott to walk barefoot into a field, ripping the strap from her handbag, repeatedly punching and kicking her on the head and body and stamping on her head.
And he denies stealing clothing, footwear, jewellery and other personal effects from the teenagers in an attempt to pervert the course of justice.
Mr Sinclair has lodged three special defences, of incrimination, consent and alibi.
The trial continues.