Edinburgh council solves vanishing bus stop mystery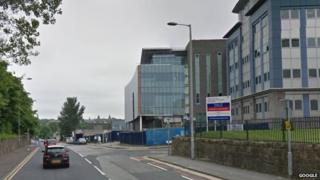 Edinburgh City Council has discovered that three bus stops removed overnight on Wednesday were dismantled by the company previously responsible for maintaining them.
Clear Channel's contract to manage some of the city's bus stops ended on 3 August.
Two stops disappeared from outside the Western General Hospital and one was partially removed from Princes Street.
The two organisations are now said to be in a "productive dialogue".
It is understood that the council is in talks with JCDecaux regarding a replacement contract to manage the bus stops.
The shelter on Princes Street had its roof, glass wall panels, sign post and digital display removed. Two stops outside the hospital on Crewe Road South were entirely removed.
The council was unaware of the reason behind the removal of the bus stops until it contacted Clear Channel.
Council officials reported the company to the Health and Safety Executive and Edinburgh Trams notified Police Scotland.
Clear Channel said that they had halted the removal programme.
'Gesture of goodwill'
Clear Channel owns 38% of the city's bus stops. Until 3 August this year it was contracted to wash, maintain and light the shelters as well as sell advertising.
Clear Channel said the contract required them to remove all the shelters within six months.
A Clear Channel spokesperson said: "Clear Channel's contract to provide advertising sales, and cleaning and maintenance for Edinburgh bus shelters came to an end on August the 3rd this year after four decades proudly serving the people of Edinburgh.
"Since then, as a gesture of goodwill, we have continued to clean and maintain non-advertising shelters at our cost even though we have no contractual obligation to do so. As a further gesture of goodwill, we kept five public toilets open during festival season, again at our cost."
They said that they had made an offer to the council to sell the non-advertising shelters in August, but heard nothing in return.
They continued: "We are pleased that the council has made contact with us and we remain committed to ensuring an orderly removal of the bus shelters. Their replacement is, of course, a matter for the council and/or any new contractor."
A City of Edinburgh Council spokesperson said: "We are pleased that Clear Channel have now entered into a productive dialogue with us with a view to finding a resolution to this issue."
It is understood that the council will be putting a replacement shelter in one of the locations on Crewe Road South on 22 October. A second replacement shelter will be installed a few days later.