Corstorphine Hill killer James Dunleavy to remain in state hospital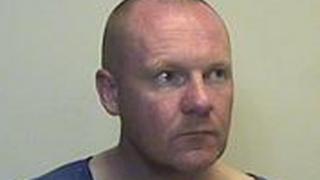 A man who beheaded his mother has been ordered to remain in a top security psychiatric hospital.
James Dunleavy, 41, buried his mother Philomena in a shallow grave on Edinburgh's Corstorphine Hill.
Dunleavy believes he is fit to leave Carstairs State Hospital and should be sent to a mainstream Scottish prison.
Judge Lord Jones rejected his bid following a five-minute hearing at the High Court in Edinburgh.
He made the order after receiving reports from medical staff stating that Dunleavy suffered from mental illness and was not suitable to be placed into a mainstream jail.
Dunleavy had also claimed he could not find a good chess opponent at the state hospital.
He will now be held at the Lanarkshire facility until a further hearing at the High Court in Edinburgh on 7 January.
Lord Jones added: "I will order for the interim compulsion order to be continued."
A trial had heard how Philomena, 66, from Dublin, may still have been alive when Dunleavy began hacking off her legs with a knife and saw at his Edinburgh flat.
Labourer Dunleavy, who worked on Edinburgh's trams project, originally denied murder and attempting to defeat the ends of justice.
A jury convicted him, by majority, of a reduced charge of culpable homicide.
They also found him guilty of the attempted cover-up between April and July last year.
Mrs Dunleavy, a mother-of-five, had arrived in Scotland on 24 April to visit her eldest son.
It was more than a month before her remains were unearthed.
A large suitcase was missing from Dunleavy's flat and a spade with a broken shaft was found in the back garden.