World's End murders: Police officer 'saw girls leave pub with two men'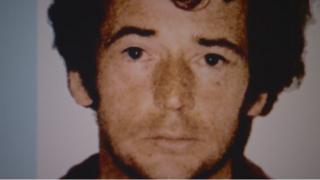 A retired police constable has told how he saw two teenage girls leave the World's End pub in Edinburgh in 1977 with two men.
John Rafferty, 57, said one of the girls was quite drunk and had to be helped by her friend, who he now knows was Helen Scott.
The bodies of Helen and Christine Eadie were found dumped the next day.
Angus Sinclair, 69, has pleaded not guilty to assaulting, raping and murdering the 17-year-olds.
Mr Rafferty told the High Court in Livingston he was on duty with another officer when the girls and men left the pub at about 23:20 on 15 October, 37 years ago.
He said Helen Scott was laughing and giggling and did not appear to show any major concern for her friend's well-being.
The former officer said the girls debated whether they were going to take a lift from one of the men or go elsewhere.
'Take a lift'
He said at some point the man said: "It's OK. I'll give them a lift."
Mr Rafferty said: "I was concerned that Christine Eadie was quite drunk and that she was going to be taken somewhere safe either by Helen Scott or this man who I assumed was with them."
He said he would never have left Christine on her own and would have taken her to the local station to sober up if someone had not come forward.
Mr Rafferty said the man's clothing stood out because what he was wearing was "out of fashion".
He was wearing a V-neck jumper with a blue or red stripe at the cuff and flared trousers with a high waist band and lots of buttons.
Mr Rafferty told the court the two girls and the man were then joined by another man.
In October 2004, Mr Rafferty was shown a selection of photographs by police officers.
He picked out a photograph labelled 'K' which is agreed to be Angus Sinclair.
The Lord Advocate Frank Mulholland, who is prosecuting the case, pointed to Angus Sinclair in the dock.
Asked how sure he was that this was the man he saw with Helen and Christine, Mr Rafferty said he could not be 100% sure but that he was about 60% sure.
Newspaper photo
Under cross-examination he was asked by Ian Duguid QC, defending Angus Sinclair, if he was concerned that he had identified photo 'K' from a photo he had seen in a newspaper.
Mr Rafferty said: "That's possible."
Mr Sinclair is alleged to have gagged the girls, bound their wrists and tied a ligature around their necks.
He denies inflicting blunt force injuries on Ms Eadie by repeatedly punching and kicking her on the body and biting her.
He also denies forcing Ms Scott to walk barefoot into a field, ripping the strap from her handbag, repeatedly punching and kicking her on the head and body and stamping on her head.
He also denies stealing clothing, footwear, jewellery and other personal effects from the teenagers in an attempt to pervert the course of justice.
Mr Sinclair has lodged three special defences, of incrimination, consent and alibi.