Gay man William Craig cleared of rape attempt on woman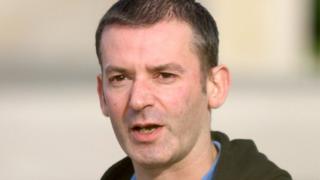 A man who describes himself as a respected member of Glasgow's gay community has been cleared of trying to rape a 49-year-old West Lothian woman.
William Craig was found not guilty by a jury who took less than an hour to return a majority verdict.
Mr Craig, who said he had been gay since the age of 13, admitted stopping the woman in Livingston.
He had denied sexually assaulting the woman with intent to rape her on 31 January.
He said he was asking her for directions to the nearest railway station as he was trying to get home to Cathcart in Glasgow.
The 38-year-old denied grabbing the woman by the arms and trying to drag her off the footpath while repeatedly shouting at her: "I'll drag you into the bushes and shag you".
'Gay all my life'
Describing her as "a drama queen" he told the jury he had only tapped her on the arm to attract her attention because she was listening to music on earphones.
When she reacted in a frightened manner he claimed he asked her: "What did you think I was going to do, drag you into the bushes and shag you?"
Craig claimed the "snobbish" woman and her female acquaintance had made up the allegations "to get that wee Glaswegian rat the jail".
He asked the jury: "Why would I want to drag her into the bushes when I'm a poof? I'm gay. I'm not into women. Get me?"
The indictment alleged he seized her by the body, attempted to pull her into the bushes and uttered sexually explicit remarks.
Outside court he told of his relief at being found not guilty.
He said: "I've been under a huge amount of pressure because of this. My boyfriend and my pals are all affected too and have had to take time off work.
"There's no way I would want to take a woman into the bushes for sex. I've been gay all of my adult life and I'm not going to change now."