Waverley Station covered in novel quotes to mark anniversary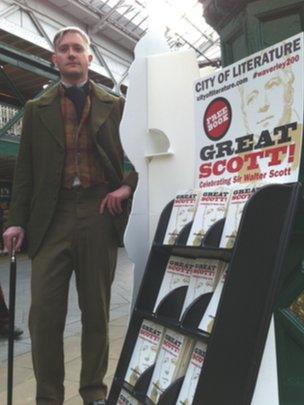 Edinburgh is celebrating the 200th anniversary of Sir Walter Scott's Waverley at the railway station named after the novel.
Waverley Station has been decorated with quotes from Sir Walter's writings to mark the 1814 publication.
Waverley is regarded as the western world's first historical novel.
About 25,000 copies of a book telling the story of the author's life will also be handed out as part of the Great Scott! campaign.
Network Rail station manager Juliet Donnachie said: "As the only station in the world named after a novel, I like to think that Waverley Station retains a bit of romance not always associated with modern railways.
"Sir Walter Scott was the most prominent Scot of his time and it's appropriate that the main railway station in Scotland's capital continues to acknowledge his influence.
"Waverley Station is steeped in history - it has been the stage for millions of stories since the Victorian era and I think Sir Walter would like that."
Waverley was the first novel of Sir Walter (1771-1832) who also penned the classics Rob Roy, The Heart of Midlothian and Ivanhoe.
The story follows the adventures of Englishman Edward Waverley in 1745 Scotland, where he becomes involved in the Jacobite rebellion and the attempt to restore the Stuart kings to the British throne.
In the first year of its publication Waverley sold more copies than all other novels issued in the UK that year in total.
Douglas McNaughton, manager of the Great Scott! campaign, said: "By inserting fictional characters into actual events, Scott invented the historical novel and influenced every writer who followed him, including Charles Dickens, Jules Verne and, by his own admission, George RR Martin, author of the phenomenally popular Game of Thrones series.
"Waverley isn't a boring, dusty old story - it's essentially an action movie. The naive young hero is brought up by relatives, goes on a perilous journey and is caught up in the politics of an impossibly strange and exotic landscape. That's basically the plot of Star Wars.
"And Scott wrote Waverley as a novel covering historical events in living memory. The 1745 Jacobite rebellion was exactly as recent for Scott's readers as the Second World War is to us now."
The campaign coincides with the 10th anniversary of Edinburgh's designation as the world's first Unesco City of Literature.
Quotes from Sir Walter have been written across the floors and walkways of Waverley Station, including the famous line: "O what a tangled web we weave / When first we practise to deceive."
Copies of the book will be available at the station in October and November while stocks last.:
Related Internet Links
The BBC is not responsible for the content of external sites.