New urban bike park to be built in Edinburgh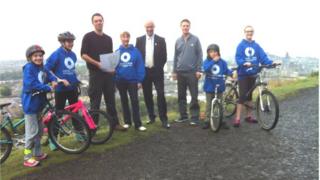 A new £170,000 urban bike park is to be built in Edinburgh.
A mountain bike trail stretching 800 metres as well as a "pump park" are planned for Braidwood next to Arthur's Seat.
Organisers have raised 75% of the project cost. It will take seven weeks to build and is hoped to be running by next summer.
It is one of 47 projects to benefit from government funding after the Commonwealth Games.
The Scottish government gave £76,000 to the bike trail project.
Other projects to benefit from £10m of funding include new paths on the Union Canal and a refurbished bothy in Glen Affric.
A pump park is a continuous circuit of bumps that loops back on itself, allowing you to ride it continuously.
Angus Calder of the Braidwood Bikepark Group said: "The SKELF bike park project is about creating a fantastic and fun bike play space for local young people.
"The Dumbiedykes area is one of the 20% most deprived areas in Scotland with real problems with poor health and unemployment, while the Braidwoods are a haven for anti-social behaviour.
"Creating the SKELF bike park bike park will attract people and life back into the woods, making a real community asset of a currently wasted resource.
"The project will also be a safe place for local schools to run bike skills classes and PE."