Velux closure in Glenrothes to cost 180 jobs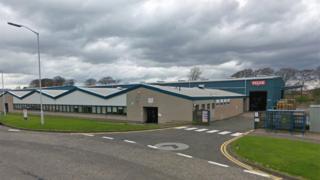 A factory in Fife is to close with the loss of about 180 jobs under proposals announced by its Danish owners.
The Velux Group said its Fife Joinery Manufacturing facility in Glenrothes would shut by the autumn of next year.
The site makes energy-efficient roof windows and skylights.
Velux, which also has its UK headquarters in Glenrothes, said the plans will see about 30 sales and marketing roles created in the town.
It said the decision on the proposed changes was taken following a "a strategic review of its manufacturing and logistics functions across Europe".
'Moved south'
In a statement, the company said: "Under the proposal, by autumn 2015, the manufacturing business, Fife Joinery Manufacturing, would regrettably close and its distribution services relocated within the UK.
"Separately, the neighbouring sales and marketing division will be expanded. Approximately 180 manufacturing and distribution jobs are affected, while 30 sales and marketing roles will be created.
"Following the closure of Fife Joinery Manufacturing, the distribution centre would be moved south to the Midlands to improve distribution efficiencies.
"Simultaneously, the group will strengthen its UK headquarters in Fife by adding an additional 30 roles within the growing sales and marketing division in Glenrothes, reflecting ongoing sales growth within the UK and Ireland."
Velux said Glenrothes was the group's only manufacturing site outside mainland Europe. The company said it will now concentrate its production at fewer factories and reorganise its operations in Europe to boost its "long-term competitive strength and cost effectiveness".
'Difficult decision'
As well as Glenrothes, the group will also close a factory in Bagsvaerd in Denmark, affecting 65 jobs.
Keith Riddle, UK managing director of Velux, said: "This has been a very difficult decision and not one we have taken easily.
"Our primary concern at this time is to support affected colleagues and we will be working closely with employees, relevant agencies and the Scottish government to offer guidance and support in addition to redeployment or relocated employment where possible.
"A process of consultation with elected employee representatives is also being established."
Mr Riddle said he hoped some employees affected by the closure would be able to apply for a new position in the sales company, or would consider relocation to its southern distribution operation.