Shop worker throws can at knifeman in Edinburgh store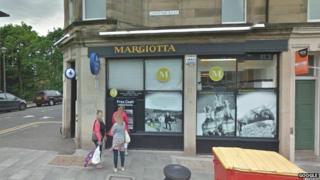 A shop assistant who threw a can at an armed thief after refusing to hand over money at an Edinburgh shop has been commended for her bravery by police.
The woman was working in Margiotta in Comiston Road at 11:30 when the thief, armed with a knife, demanded money.
The shop assistant refused and threw a can of soft drink at the thief, who ran off towards Greenbank Drive.
The suspect was described as white, in his mid 20s, of slim build, gaunt appearance and with bushy eyebrows.
He was wearing a bright red Adidas hooded top with a large white logo on the front, blue jeans with a whit G Star logo on the rear pocket and dark shoes.
Police also want to find another man who was seen loitering in the area and who entered the shop before the incident.
The man white, in his early 20s, of slim build and has bushy/messy hair. He was wearing a grey hooded top and blue jeans.
Det Con John McShane, of Police Scotland, said: "The shop assistant showed great bravery and resilience to scare the suspect off and thankfully she was uninjured during the incident.
"Nevertheless, we are treating this very seriously and would urge anyone who remembers seeing any suspicious activity in or around the store on Wednesday morning to contact police immediately.
"Similarly, anyone who can help us identify these males is also asked to get in touch."