Police link a series of firearms incidents in Edinburgh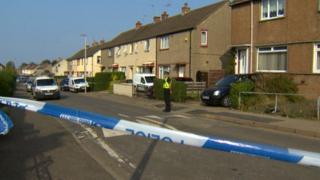 Police are linking a series of incidents where shots were fired at buildings and a car in Edinburgh.
The incidents in Gilmerton and Liberton are being treated as a major investigation by officers.
The first happened at 00:40 on Tuesday 9 September when shots were fired at a house in Fernieside Avenue.
The gunman was wearing a hooded top and left in a dark blue coupe-style vehicle. On Saturday shots were fired at a parked vehicle in Murrays Brae.
The shooting took place at about 21:30 and a "suspicious device" was left.
A few minutes later, shots were discharged at a house in Gilmerton Dykes Drive and another suspicious device was left at Walter Scott Avenue.
Both devices were found not to be viable.
Police are also investigating a "suspicious incident" the previous day on Friday when two men went to the door of a property in Hyvot Bank between 21:30 and 21:45.
The first man is white, in his early 20s, 5ft 10in, of medium to slim build, and he was wearing a grey jogging suit. The second man is white with dark hair.
There are no reports of anyone being injured as a result of the incidents.
Police have appealed for information.
Det Supt David Gordon, of Police Scotland, said: "We can confirm that we are linking these incidents together under a single investigation. This is now a major investigation led by the Organised Crime Unit, reflecting how serious we are taking these reckless and dangerous acts.
"I would ask the local community to think about where they were at the time of these incidents and if they saw anything suspicious or have any information to contact the police.
"We need information from the public about who committed these offences and the current location of the firearms used in these crimes.
"We believe the answer lies within the local community and are appealing for anyone who has information, no matter how insignificant they feel it is, to come forward.
A motorbike was seen in the Murrays at the time of the incidents on Saturday.
It is believed there were two people on the bike. The rider had a helmet, but it is not clear if the passenger was wearing a helmet or had a hood over their head.