Scottish referendum: Fife votes seal overall 'No' vote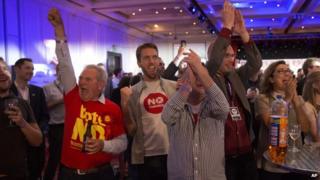 The result in Fife sealed the overall outcome of the independence referendum at 06:08, as the returning officer announced a comfortable "No" vote.
Fife voters rejected Scottish independence, voting against it 55% to 45%. The turnout was 84% of the area's 302,165 electorate.
Edinburgh also had a high turnout of 84% from its 378,012 electorate, with 61% "No" votes against 39% for "Yes".
East Lothian rejected independence, voting against it 62% to 38%.
The highest turnout in the Lothians was in East Lothian with 88% of its 81,945 electorate.
Midlothian also had a high turnout with 87% of its 69,617 electorate, with 56% "No" votes against 44% "Yes" votes.
West Lothian voted 55% for "No" and 45% for "Yes" from 86% of the electorate.
---
Angie Brown
Edinburgh and east reporter
Drizzly damp weather and a sense of exhaustion enveloped Edinburgh's streets as the capital city woke up to a "No" vote to Scottish independence.
The Scottish Parliament, which had seen hundreds of campaigners outside only hours earlier, was deserted.
The only signs of life were tourists taking pictures and the floodlights of the neighbouring media tent.
The parliament seemed stubbornly quiet against a backdrop of Arthur's Seat, which was shrouded in mist.
Around the corner in the Royal Mile some late night supporters were drinking coffee in cafes and tourists carried on their sightseeing tours huddled under umbrellas and ponchos.
Campaign posters and notices have been taken out of shops and there were no Saltires hanging from flat windows.
A passerby said although he had voted "No" he felt a tinge of disappointment as he walked through Edinburgh's street to get to work as the "excitement had gone".
Everything seemed to be back to normal.
---
Scotland's First Minister Alex Salmond later said in Edinburgh that he accepted Scotland had rejected independence in the referendum.
Mr Salmond called for national unity.
He said the referendum and the high turnout had been a "triumph for the democratic process".
In Edinburgh, author and pro-Union supporter JK Rowling was among the first celebrities to hail Scotland's decision to turn down independence.
The Harry Potter writer, who declared her support for the No campaign with a £1m donation earlier this year, said as the final result became clear: "Been up all night watching Scotland make history. A huge turnout, a peaceful democratic process: we should be proud."