Welsh and Canadians among campaigners pounding Edinburgh's streets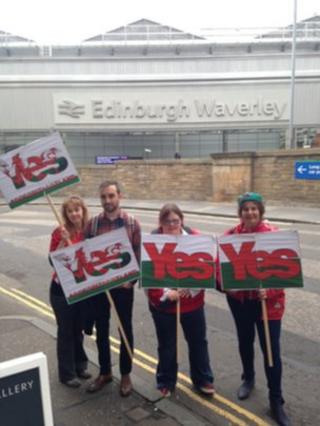 A walk around the centre of Edinburgh illustrates how the independence referendum is attracting the attention of people from all over the world.
I come across "Yes" campaigners from Wales, and a woman and her four children who have apparently travelled from Canada to support the "No" vote.
With a day left until the poll, tour guides have also been informing tourists of the historic event.
Pubs are also cashing in on the interest with longer opening hours.
Audrey Nadeau, 37, from Ottawa in Canada, said: "I have come all the way here because I feel so passionately about the independence vote.
"I originally come from Quebec and I have seen the consequences of referendums."
She told the BBC Scotland News website that she had been heckled and screamed at by passersby as she handed out "No" campaign leaflets in Edinburgh.
"I am here with my four children and we have found it very hard handing out leaflets so I can understand how "No" voters feel intimidated.
"I have also had a lot of people walking past winking at me or making little silent thumbs up signs at me.
"The 'No' voters are having to be very hush, hush."
Gwenno Dafydd, 57, from Cardiff, drove for nine hours to be in Scotland.
She said: "I wouldn't miss this for the world. There is nowhere else on the planet I would rather be, I think it is so important.
"I want to support the 'Yes' campaign because it is an opportunity for Scotland to take control of its future.
"The vote will also rock the establishment whatever the outcome.
"I hope there is an independence vote in Wales because I think Britain is too London-centric with no idea how other areas function."
Ten Edinburgh pubs have had requests granted to stay open longer in the early hours of Friday.
The Carriers Quarter, Kilderkin, Phoenix Bar, Greenmantle, Golden Rule, Traverse Theatre, SNP Club, and Mash Tun will be open until 03:00 BST.
The Radical Road and The Stand will be open until 05:00.
---
Campaigners in Inverness
Steven McKenzie, BBC News website
On this last day of campaigning, mist and low cloud cloak the low hills near Inverness.
The tops of Dunian and Craig Phadrig - no stranger to history, being the site of an ancient vitrified fort and the place where a Pictish king was said to have been converted to Christianity, are obscured from view by the grey weather - but down below in the city centre colourful placards for "Yes" and "No Thanks" have been cable-tied to almost every lamp-post and are highly visible.
The blue and white "Yes" signs have been up for weeks, but over the past few days increasing numbers of those supporting "No" have also been appearing.
Up the hill from the High Street, the ruins of historic Viewhill House have become another front line for the placard raisers.
Destroyed in a fire almost exactly seven years ago to the day, this once grand property was the home of civil engineer Joseph Mitchell.
In the 1800s, Mitchell worked with Thomas Telford on designing transport improvements in the Highlands, including the Caledonian Canal.
Today, on a wire mesh security fence is bolted a blue "Yes" while a "No Thanks" sign has been placed on a nearby lamp-post.
And from builders' scaffold around the ruins - which for a short time last year was a perch for an escaped eagle owl before it was recaptured - a Saltire has been raised.
---
Alan Dykes, 35, from Edinburgh, said: "Everyone has been very heated about the referendum.
"My dad is a strong 'No' voter and when he found out my 94-year-old gran had sent in a 'Yes' postal vote - because she had heard all her carers talking about voting 'Yes' - he was very annoyed.
"I'm undecided but if I chose to vote 'Yes' I would have to tell my dad I had voted 'No'.
"This is by far the most political I have seen everyone. I think it's a good thing."
Elly Bos, 57, from Sale in the Australian state of Victoria, said she had been unaware of the independence referendum.
"Its not been on the news in Australia and the first I knew was when our tour guide said we had arrived at a very historic time for Scotland.
"So I rushed out and bought a local newspaper in a bid to get a flavour of what is going on.
"I have seen people wearing 'Yes' badges and posters in shop windows and the owner of the inn we had dinner at last night was talking about it.
"I do think there there is potential for civil unrest on the day of the result."
Neil Wallworthy, 45, from Edinburgh, said he was "a disabled for 'Yes'" voter.
He said: "I will be voting 'Yes', as it is simply a matter of survival for disabled people.
"I have never voted before because there has been nothing to vote for its just one bunch of millionaires against another.
"However this is a vibrant, amazing thing that's happening."
Kareen Riley, 49, from Edinburgh, said: "I will lose my children if it's a 'Yes' vote because my daughters who are a doctor and a dentist said they will move to England.
"I am very upset about the whole thing and will be voting 'No'."