Garry Lockhart killed his wife and toddler in a drunken argument, court told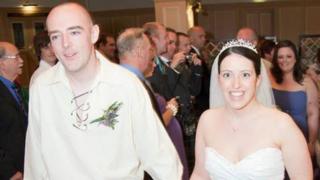 The trial of a man accused of murdering his wife and son has begun.
The High Court in Edinburgh heard Garry Lockhart, 33, had admitted killing Janet Lockhart, 29, and Michael, two, at their home in Bonnyrigg.
In an agreement between the Crown and defence he said he "snapped" after a drunken argument last December.
Mr Lockhart offered a guilty plea to murdering his wife and the culpable homicide of his son, on the grounds of diminished responsibility.
This was rejected by the crown and the two murder charges remain.
The agreement noted Garry Lockhart remarking: "What I did was wrong. I have no excuse for it.
"I just snapped after a drunken argument with Janet. Janet is an amazing mum. Michael was my everything. I don't feel sorry for myself but I feel sorry for everyone in her family. I know I should be punished."
The court heard that police broke into the house in South Chesters Lane on 28 December after Mrs Lockhart's family became concerned at not hearing from her.
Sgt Kevin Clark from Bonnyrigg Police Station said he saw spots of blood on the stairs.
As he approached the main bedroom he found a piece of paper at the door. It read: "I am not a bad person. Shots of alcohol made me bad. I hope I rot in Hell".
Shining his torch on the bed, Sgt Clark said he saw two bodies. The boy was lying on his back with his arms at his side. The woman was face down with one arm over the boy. They were both obviously dead.
Two other notes were found. The first read: "Police. I have killed my family."
The second read: "How could I kill Janet and Michael. They were my life. I loved Janet and Michael."
'Something stupid'
Paul Simpson, 33, who worked with Lockhart at the Scotmid funeral parlour, told the jury that Lockhart adored his family and was looking forward to Christmas with them.
On the 28th he had spoken on the phone to Garry Lockhart.
"He was quite hysterical and kept saying 'I have lost my family and done something stupid'," he told the court.
"I asked him about that. He said 'They are away. I have done something really bad' He was talking very, very quickly and crying."
He said Garry Lockhart had later written to him from prison, saying "I wish I had not got drunk that night".
The letter described Janet as "my soul mate" and an "amazing woman" and Michael as "a perfect son".
Janet's father, 58-year old John Hood, told the court that Garry Lockhart was his daughter's first "serious boyfriend" and they married in June 2010. Michael was born a year later.
Husband's car
Asked if Garry Lockhart was a "drinker" he replied "yes" and said it had caused some problems between them but generally they seemed to be getting along well.
He described how he went with police to the house on the evening of the 28th. His daughter's car was there but her husband's car was not.
He dialled his daughter's mobile. They could hear it ringing inside.
Mr Hood said he was then told to stay outside as police forced entry to the house.
He was then informed daughter and grandson were dead.
Advocate Depute, Iain McSporran QC, asked him what effect this had had on him and his family.
"There are no words to describe it," he replied.
The trial also heard from a mobile patrol officer who came across Garry's Lockhart's car in a lay-by on the A703 between Penicuik and Peebles.
He could see a man lying on the reclined driver's seat and smashed a window.
Mr Lockhart had appeared disorientated and said he had taken tablets. He was then taken to hospital by ambulance.
The trial before Lady Wise was adjourned until Friday.