Road closures for Forth Road Bridge celebrations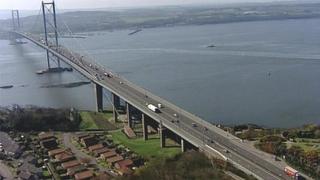 There will be road closures and parking restrictions ahead of the finale event for the Forth Road Bridge's 50th birthday celebrations.
On Saturday southbound traffic will be restricted to a single lane from 19:00 for the torchlight procession across the bridge.
The bridge will then close completely between 22:00 and 22:30 for fireworks to be launched from the structure.
South Queensferry High Street will be shut to traffic from 14:00 on Saturday.
Local parking within South Queensferry will be suspended from noon.
North Queensferry residents and businesses will be allowed access, but not via Ferryhill Road.
Road closures are expected to be lifted at 17:00 on Sunday.
Celebrations to mark the bridge's milestone birthday culminate on Saturda when thousands of torch-bearers will form a kilometre-long "river of fire" on the bridge.
There will then be a huge bridge party in South Queensferry with live music headlined by Scottish rockers Big Country and guests Bwani Junction.